You know a sticky floating widget if you have seen a sidebar following you on a website while scrolling. Sticky floating sidebar widgets come in handy to direct users to crucial content, thereby creating a smarter shopping experience for customers. You are about to know about the five best sidebar widgets on Shopify.
What Makes a Sticky Floating Sidebar Plugin
A sticky floating sidebar widget is a widget locked into place on a website. When a user scrolls down the page, it remains accessible and never disappears. A sidebar is an important feature on any Shopify website as it displays essential information for users without disturbing the user experience. It is like visitors being constantly reminded of important site elements.
This can include features like opt-in forms with convincing information to subscribe to, a sticky sidebar with relatable questions about the site, and a call-to-action sidebar, which can entice website visitors to great deals.
The sidebar allows for easy navigation of users on Shopify, which promotes engagement, increases conversion rates, and builds a bigger email list. It is a great way to grab customers' attention once they land on the website.
As the sidebar widgets never disappear, all site users see specific content. These plugins can also increase subscriptions, as a strong email list can be built using the widgets.
5 Best Sticky Floating Sidebar Widgets on Shopify
Sticky Floating Contact Form (My Sticky Elements) lets your customers contact you with its floating contact us contact form. Using this contact us widget, you can increase sales and leads on your e-commerce store as customers will easily get in touch with your business team. The floating contact us form will enhance customer experience, which goes a long way in ensuring the sustainability of your online store.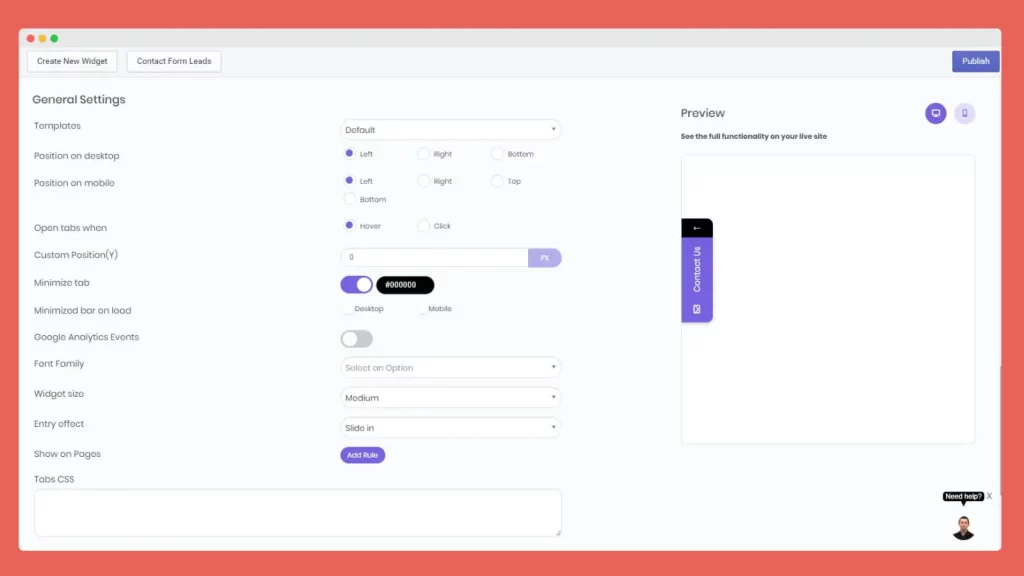 This great application works and feels great regardless of whether you use a mobile phone or a desktop. The widget allows you to set different positions for your mobile and desktop versions of your contact us form. It can be customized to show the" Contact Us" tab on any page.
You can easily change the look and feel of your sticky floating form to match your brand theme. The widget allows you to choose from a wider range of colors, positions, fonts, and the contact us text to display.
This esteemed service brings convenience to both the e-commerce organization and the customer. For the business, it increases sales, lets your store visitors contact your support anywhere on your website, and facilitates capturing more leads. Customers can easily seek support in your store when needed, regardless of the place or time.
Features:
Floating contact form with any field you want
Customizable contact form
Wide range of social and chat messaging buttons in one place
Select the location of the widget for mobile and desktop
Schedule and show the Contact form only on your workdays and hours
Can choose which tabs you want to show on desktop & mobile, or both
Supports Google Analytics events
Send leads from your contact form directly to your email, Mailchimp or Klaviyo
Customize to show or hide your contact form on specific pages
Translate the "Contact us" to any language based on country or URL
Price: Free and paid plans with different prices and features are available.
2. Aero Chat & Menu
Aero Chat and Menu is a floating menu that is a sales assistant for you that you can use at your store to assist your customers in shopping more smartly. Using this application, you can create links to the products you want to promote, centralize chat applications to one place, and the widget can add a "Add to Cart" action button to hype shopping activity. Links to products or services, pages, blogs, and collections.
Aero features include:
Integrates with chat applications, including Messenger, WhatsApp, Drift, and Slack
Smart Floating Menu Widget
Customizable
Intelligent Add-to-Cart on Product Pages
Mobile friendly
Price: Has a free package as well as paid packages ranging from $9.99 to $29.99 per month.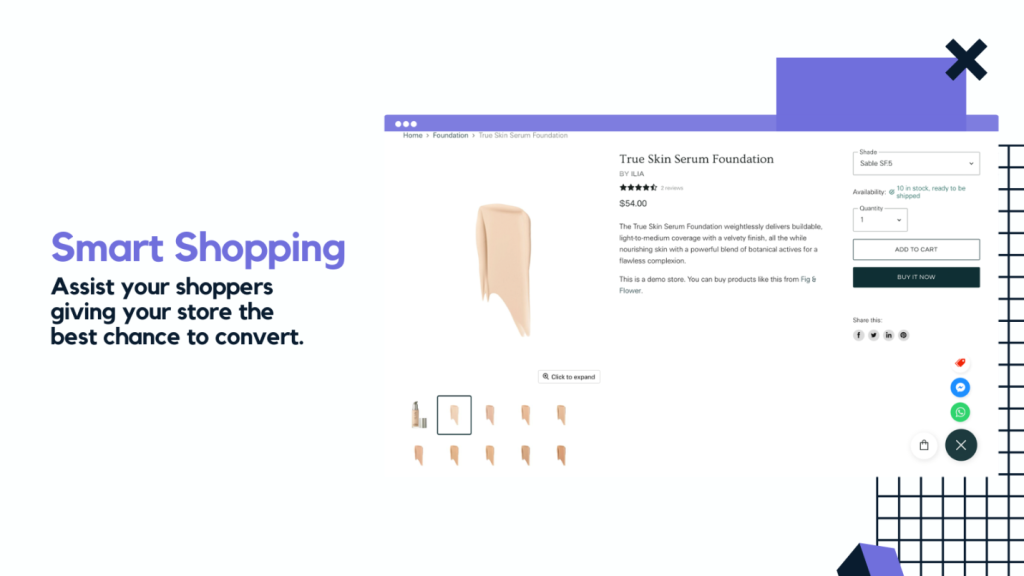 3. Magic Menu
Magic menu is a plug-in widget that helps add an interactive menu to your Shopify online store. It gives your users get a splendid experience navigating your Shopify e-commerce store. The Magic menu allows you to add menu items with pictures and gifs anywhere in the store. Conversion is made possible by this tool as with Magic Menu you can easily link your featured products to the main menu item, thereby increasing the visibility of your goods.
Features:
Add an interactive menu to your Shopify store
Customizable menu to suit your store theme
Easy enabling and disabling on your store
Simple setup
View count and click count on the dashboard
Price: Free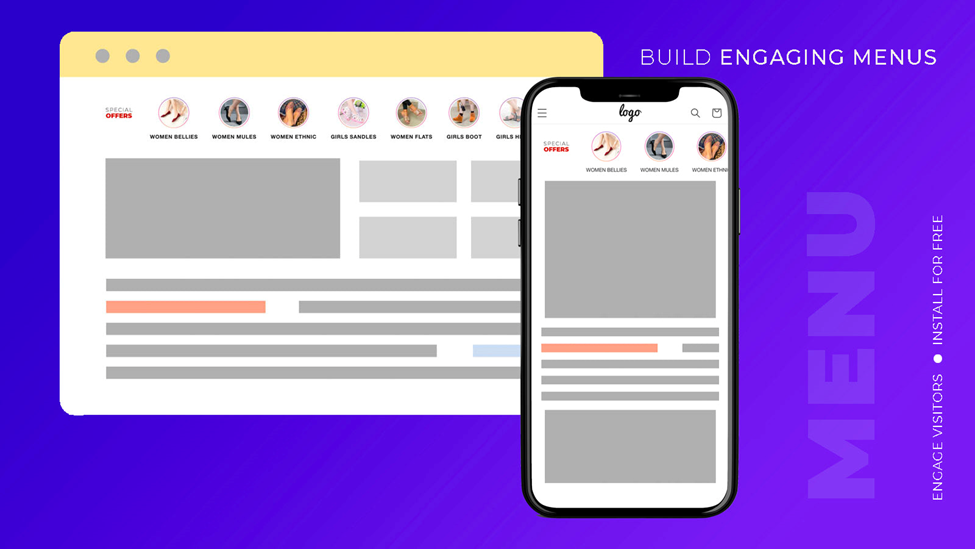 4. Floatton Floating Buttons
This app helps create sticky floating link buttons to allow users to access content on your online store easily. This application is handy, runs smoothly on mobile platforms, works with any themes, and is compatible with all browsers. Floatton application will not require you to edit template files or configure your template files like most similar applications.
What are its features?
Quick and easy installation
Add float buttons to your store
Easy to turn on or off
Coding not required
Price: Free version is available, and a Pro version at $1 monthly.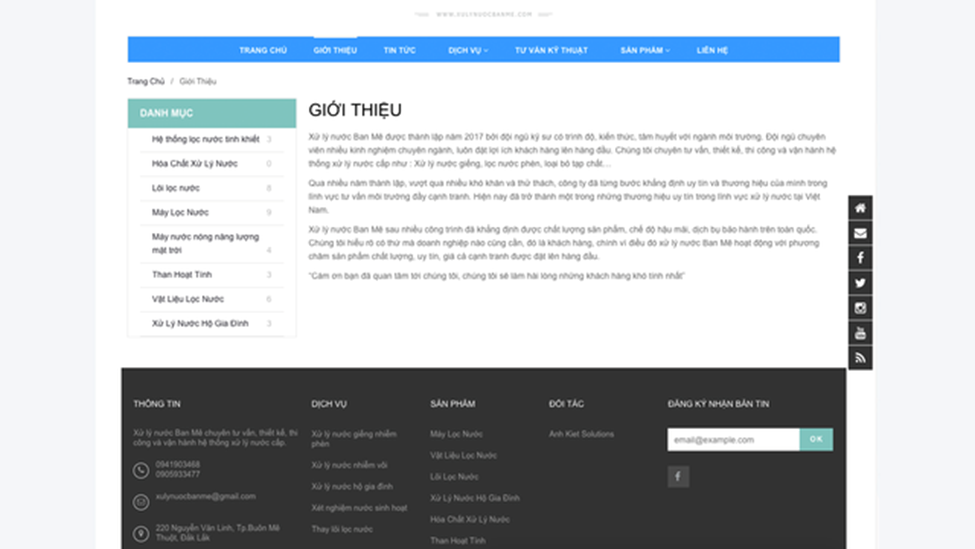 5. Floating Widgets by Webyze
Floating Widgets is an application that allows you to add unlimited floating widgets, surveys, videos, and popups to your Shopify store. You can also add banners, promotional offers, and announcements. They can be customized to your desired theme.
Features:
Create banners, announcements, floating images, offers, videos, popups, surveys, and call-to-action buttons for your Shopify store
No programming required
User-friendly
Auto install
Restrict widgets to specific pages
Add delays before widgets are displayed on the store page.
Price: $9.80 per month.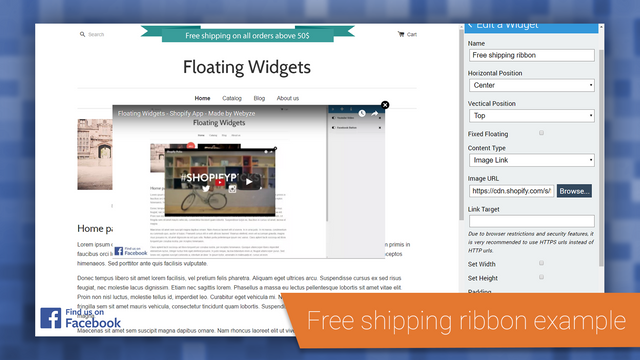 Summary
Sticky floating sidebar widgets are critical to any e-commerce as they promote engagement and assist increase the conversion rates of your shop. It is a great way to grab customers' attention once they land on the website and ensures all site users see specific content. The convenience offered by these applications is unmatched and would be necessary for expanding your business.
Sticky Floating Contact Form by Premio is the best widget of the five best sticky floating sidebar widgets on Shopify reviewed above. I recommend you use it for your e-commerce organization shop.
It is easy to use, offers value for money, and has more features when compared to the other four widgets reviewed above. The convenience derived from contact forms to your e-business and shop visitors is unmatched. It would be worth it to give the widget a try!