To find the best analytics solution for a WordPress website, one has to take into consideration several important items and search for a perfect tool carefully to get valuable insights important for the business.
And why are these insights so valuable?
Well, tracking visitors' behavior is important for several reasons, and, in order to find out what needs to be modified when it comes to your website, you need to know what their movements are.
You need to track:
The number of visitors that are coming to your website
Where your visitors are coming from
What your visitors usually do when they are on your website
What are the most popular parts of your website
That way, you get to use these metrics and create an even better version of your website to get more conversions and ultimately sales.
Take a look at these 4 best analytics WP plugins for your website, and choose the best one to get your business on an even higher level!
Analytics WordPress Plugins
1. MonsterInsights
MonsterInsights is one of the most popular solutions for your WordPress website.
It offers numerous solutions to make your website's performance better, and with the help of Google Analytics that you can add to it easily.
It is very easy to install and use, too, and you don't need any coding skills.
You can grow your business easily using real-time analytics, different reports, and more and get awesome results without a sweat.
The dashboard is linked to WP automatically, and you can use it to track your audience's behavior, traffic sources, and similar:
You can see all the important statistics clearly, and, for example, what is the most visited page on your website.
With just a few clicks, get the information about all your campaigns and track visitors' behavior, all the important statistics when it comes to your posts and pages, use affiliate and ads tracking, and much more.
In addition to knowing who's online and what they are doing on your website, you can use e-commerce data to reduce your cart abandonment rates and get more sales.
You get to find out everything about your audience from their age and gender to location.
It is GDPR friendly, and you can connect its tracking to WooCommerce for an additional source of data.
Use the A/B testing option to improve your marketing strategy and optimize your website to the fullest.
Pros:
Easily linked with Google Analytics
Universal tracking
User-friendly dashboard
Affiliate links and ads tracking
A/B testing
GDPR-compliant
Real-time statistics
Cons:
It might be too expensive for smaller businesses
For advanced statistics you need to get the premium version
MonsterInsights's pricing
They offer a 14-day money-back guarantee, so you are free to try this tool out. As there is no free plan, you can choose between several paid packages starting at $99.50 per year.
2. Independent Analytics
Independent Analytics is a new analytics plugin made for WordPress and an alternative to Google Analytics. You can activate this plugin in seconds and you don't need to copy and paste any tracking codes yourself.
With this plugin activated, you'll find a beautiful new analytics dashboard added to your WP admin. From there, you can see how many views and visitors your site gets including a table with every page that received a view.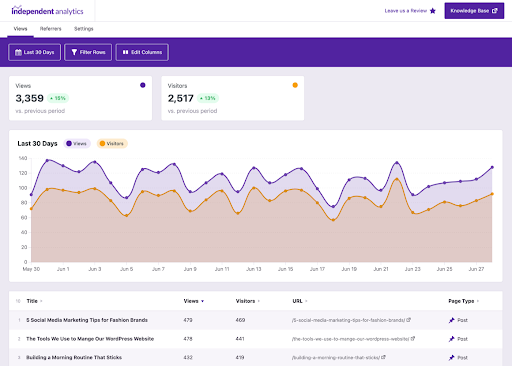 You can easily sort and filter this data to find how specific groups of pages performed. There's also a Referrers report that shows you where your traffic is coming from e.g. Google, Twitter, Facebook, etc.
The tracking script is extremely lightweight, so it won't slow down your site. Additionally, Independent Analytics doesn't use cookies or store personal data, so it's fully GDPR compliant.
Independent Analytics' pricing
Independent Analytics is completely free to use for all WordPress users. There is no premium version at this time, but the developers plan to release paid add-ons in the future for eCommerce and conversion tracking.
2. WP Statistics
WP Statistics is a simple tool that is perfect for anyone who wants simple but powerful solutions for their website.
With it, you can easily find out how many people visit your website, where they are coming from, and also what search engines and browsers they use.
With the help of useful graphs and visual statistics, you can easily see all the results and display them on the WP dashboard.
You can filter your data by keywords, location, referring websites, browsers, IPs, and more.
You also get statistical reporting emails, so you can be immediately informed about everything that is happening on your website.
It is easy to install, and its interface is extremely intuitive:
This plugin is GDPR compliant, and if you need high-quality reports concerning demographics and the content itself, you can get them, too.
Track redirects from search engines such as Yahoo, Google, Bing, and similar.
Its focus is on the users' privacy, so this tool doesn't need to share your users' data to get valuable statistics.
Track statistics regarding content when it comes to tags and categories.
It supports real-time statistics, so you can watch everything your visitors do and where and how much they click at the very moment when it happens.
Pros:
GDPR-compliant
Intuitive interface
Real-time statistics
Graphs and visual statistics
Email reports
Demographic and content statistics
Cons:
It stores all data only on your WP website, so space can be filled quickly
Some advanced premium features need to be purchased additionally
WP Statistics's pricing
You can download this plugin for free.
3. Crazy Egg
This tool uses a special technology called heat mapping to help you visualize everything visitors do while on your website, such as what they click on, and the like.
It helps you optimize your website by tracking your visitors' intentions and actions, and it records sessions and offers A/B testing options.
To give you the opportunity to better organize and analyze your content, this tool allows you to see where visitors are navigating when they are on a particular page.
You can even use its Confetti tool to track your ad campaign traffic and watch and segment your visitors' clicks.
Follow what they are doing using recorded sessions and reduce your cart abandonment rates.
It is easy to use and install, and enables you to get a clear visual picture of what needs to be changed in your design:
With the A/B testing tool, test different versions of your website elements, for example, CTAs, and find the right one to secure the best performance.
Create a goal to test according to clicks, URLs, or form submissions, and you are ready.
With the heat mapping technology, see all the hotspots on your website and pay special attention to them to increase your conversion rates.
Make your user experience better, and do it all yourself, without any developer skills.
Pros:
The heat mapping technology
Easy-to-use
Website recordings
A/B testing options
The Confetti tool
Real-time statistics
Cons:
It lacks certain filters and advanced targeting can seem confusing for some users
The customer support may be better
Crazy Egg's pricing
All plans are free for 30 days, but after that, you can upgrade to some of the paid plans starting at $24 per month.
4. Jetpack
Jetpack gets you everything from security to high-quality performance, design tools, and more.
This WordPress plugin allows you to see all the basic statistics right there in your WP dashboard.
With its numerous features, it helps you automate real-time backups and restores, easily migrate your website, and do all that with a couple of clicks.
To help you understand your audience's behavior on a deeper level, it allows you to optimize your website's performance with the help of advanced statistics.
It offers quick traffic reports on your website and tracks visitor activities in the form of likes, comments, and more.
It is extremely easy to use and understand, and you get clear reports that you can see on the interface with a comprehensive overview:
You get to scan your website for malware and maintain every process easily by watching over any website change.
Each time you log in, you can see a clear graph of your traffic, and if you want to take a closer look at your progress, you can see how many views you had that day, as well as your highest number of views ever.
You can see what content your visitors are viewing the most, what are the top posts and pages, referrals, and more.
Integrate with WooCommerce, Google Analytics, Mailchimp, and more to make everything function seamlessly.
Pros:
Security and design tools
Easy-to-use
Website optimization tools
Advanced analytics and reports
Useful integrations
Cons:
It can slow your website down if every single feature is used
You can manage it only through WordPress
Jetpack's pricing
Although it doesn't offer a free plan, you can use their 14-day money-back guarantee. Jetpack offers several paid plans, and all of them include priority support.
The Bottom Line
If you track and analyze your visitors' behavior, you get better chances of improving your website performance and getting more customers.
There are a lot of tools on the market that can help you do that, but there are also some that can help you improve the user experience such as Premio plugins.
With the pro version of the Premio plugin Chaty, you can even track Chaty clicks via Google Analytics in real-time.
For an analytics tool to be effective enough, it needs to be simple but powerful, easy-to-use, and full of important features to help you get valuable insights.
Find the right analytics WordPress plugin for your website, and get fantastic results right away!