Do you know what the best way to attract customers and retain clients for your business is? Websites. Through websites, your organization – whether big or small – can establish its strength and build its credibility for the audience. However, a website with a poor user experience can keep you away from future clients. So, what are the best plugins to create a great user experience?
Customers expect online presence above all: a well-designed, informative, and updated website to visit, discover, and even purchase your products/services. The problem is several visitors may decide to leave your website – increasing your site's bounce rates – because pages load slowly or broken links appear in the way. So, you should focus on two things: keeping actions understandable and simple and getting customers back to the site.
Today, WordPress is the most popular platform to create websites on the internet, mainly because it's simple and automatic. Currently, half of the 10 million top websites use it, and it gets more exciting every day since there are so many plugins you can use to make it friendlier and varied.
Nevertheless, including every plugin on your website may overwhelm visitors and reduce the quality of the user experience.
Why is UX Development Important for Your Website?
A website's UX development focuses on users' satisfaction and experience when navigating the website. Since UX design plays a vital role in any online business's success, companies should learn to empathize with user's satisfaction to build strength and reputation.
There are a million plugins available to add to your website, and each of them will seem necessary – especially since most are for free. However, having too many WordPress plugins can negatively impact your website UX:
Generating slower processes: Some plugins make additional HTTP requests and database queries.
Cause security problems: to have a safe and reliable website, you must ensure you can protect all the information you publish.
Cause conflicts when new plugins or updates come out: filling the website with plugins can generate slower processes on the site.
So keep the focus on the user experience for your visitors. What are they expecting from your website?
It's your responsibility to create a browsable site for all customers and that of the UX developers. UX plugins will help you capture visitors' attention and generate new revenues for your company.
8 Plugins for Your User Experience
1. Chaty by Premio
Online customers always have questions when visiting a new website. They expect to make better purchasing decisions through an expert's advice on the topic.
Chaty is a WordPress chat plugin by Premio offers an opportunity for your team to talk directly to customers. According to an NP Digital survey, the popularity of live chat is constantly on the rise. By equipping your site with this tool, you will satisfy even the most demanding users while reducing your expenditure, increasing sales, and getting to know more about your visitors.
Chaty's main features are:
Connect with customers through their favorite messaging channel
Customize your chat widget and add multiple platforms
Effectively target more qualified visitors with Chaty's long list of targeting options
Track your chat widget performance with Google Analytics
Works on both mobile and desktop
Chaty is a fantastic plugin to build customer relationships!
Install Chaty here.
2. WPtouch
People use their mobile phones for everything. Computers have been left aside for essential matters, while the cell phone became a human's best ally. So, now more than ever is time to make your website mobile-friendly. And that's what WPtouch does.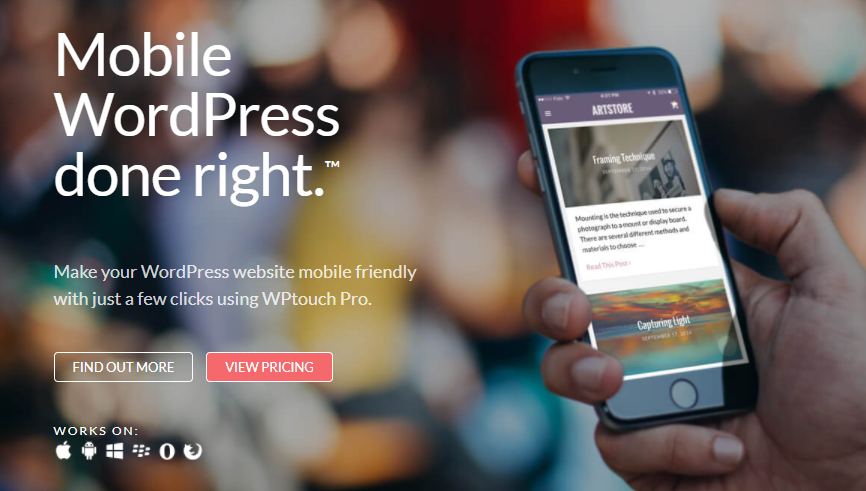 Now, consumers interact with your website on small screens. According to a Quartz report, 70% of web traffic comes from mobile phones. But including this plugin could help you prevent your SEO rankings from dropping.
WPtouch can help you create a simple and elegant mobile theme for mobile visitors to your website. You can download the plugin's free version with the essential features to get started, but the premium version has many more options. It includes more themes, an impressive administration panel, and excellent support.
And don't worry about coding. The plugin allows you to customize your site's appearance for mobile visitors without the need for coding a single action.
3. Poptin
Collecting leads for your business can help you improve your status among possible customers. And to gather pertinent information from leads, you'll need a new plugin on your website.
Poptin can create any kind of pop ups, forms, from lead generation forms to contact forms to help you improve your website's processes. The drag and drop feature makes it easy to control and fulfill all your desires. And the good news is that you won't need to enter the coding field at all!
Install Poptin here.
4. Yoast SEO
Are you familiar with the meaning of SEO?
SEO (Search Engine Optimization) is the practice of getting targeted traffic to your website from a search engine's organic rankings. Every WordPress site needs a good SEO, and Yoast SEO is an excellent solution.
SEO and user experience guidelines for optimizing images, keyword selection, writing an effective title tag, and even coding in HTML have a lot in common.
Yoast SEO plugin focuses on :
Optimizing for key words, keyphrases, synonyms, and related words in all of their forms.
Creating suggestions for links to other pages on your website as you write.
Showing you the five most important words or phrases on your page to check if they match your chosen keywords.
Setting canonical URLs to avoid duplicating content on Google
Getting an overview of your focus keywords and SEO scores
Moreover, when people easily find your content, you obtain better SEO rankings. Your publication links and shares increase, and you might even get better traffic on your site.
5. Broken Link Checker
Landing on a 404 page is one of the most disappointing experiences a customer can have. Broken links on your site completely disrupt the user experience and accidentally throws out visitors from your website.
Broken Link Checker can help you monitor all WordPress website's broken links.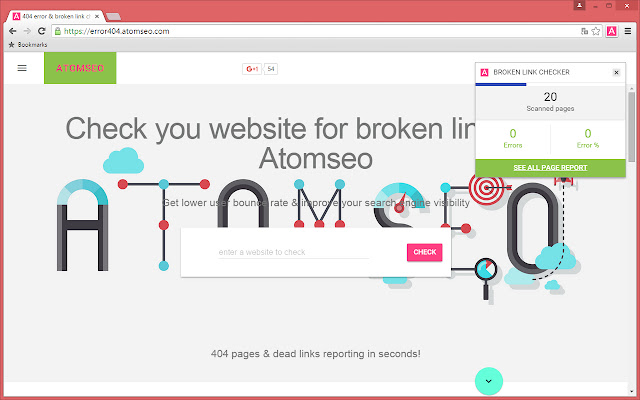 The plugin scans your site, tracking links in your posts, pages, comments, blogroll, and custom fields. Then, detect those links that don't work or miss images and redirects. Once it notifies you of error links, this checker makes suggestions for fixing those links.
It's simple to use, and it reduces link maintenance time. Broken Link Checker can prevent your search engines from following broken links and leaving your website before they make any action.
The Broken Link Checker plugin scans your site, notifies you of broken links, and makes suggestions for fixing those links. You can even set broken links within the tool using the filterable link list. You'll save time maintaining your site.
6. Smush
People are becoming more impatient every day. Website visitors demand instant access and result to their requirements. So your goal is to get them to your content as quickly as possible. The faster your site becomes, the more people will learn about your brand and products. And for this, the Smush plugin is perfect.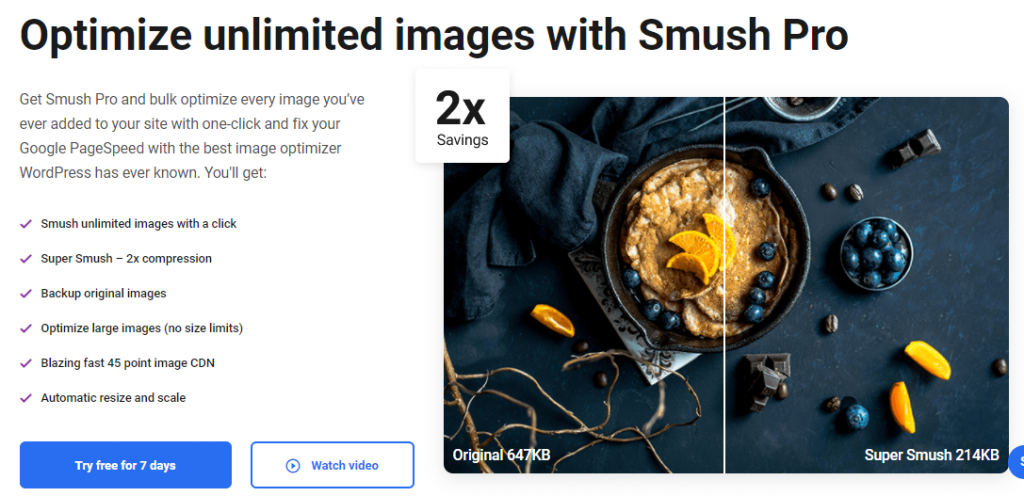 Smush optimizes your images to improve your webpage's loading speed. This plugin can compress images by stripping bulky hidden information to reduce the file size without affecting its quality.
Smush also offers clever tips for scaling your images. And it has several features:
It can optimize unlimited images on your site with a click. Plus, automatically smushing the future images you upload in the future.
Store original images as a backup so you can restore full quality images in seconds
Save more than 2x images without any drop in visual quality through its advanced algorithm compression.
Serve all your images in a next-gen format (25% smaller than PNG)
Optimizing large photos up to 32MB with one click to save space on your servers.
7. W3 Total Cache
This plugin helps you load your pages faster through caching. W3 Total Cache can significantly improve the user experience through its various acceleration processes.
W3 Total Cache also provides easy Content Delivery Network (CDN) Integration, which allows you to store images on another network, thus decreasing the load on your server – so be careful on that one. It can also reduce your website's loading time up to three times less. And the faster the loading process, the better the user experience, conversion, and ranking rate.
This plugin uses HTTP compression to shrink your pages. So it can also minify your Javascript and CSS code, taking out comments, spaces, and other unnecessary things that may affect the coding work. W3 Total Cache is compatible with Virtual Private Servers, Dedicated Server for development, and Shared Hosting.
8. BackWPup
How would you protect all the information you upload on your site? With BackWPup
After spending an hour typing up a new post on your blog, removing the typos, and uploading visual content – like images or videos – the one thing you'll need is to secure all the work. Through BackWPup, you can ensure that you'll get your content back to your users if something goes wrong.
Having backup plugins will help you build an effective website that users can trust and keep your motivation running – since replacing lost pieces of content isn't simple.
If you're looking for a free plugin, BackWPup would be the best choice. Then for $5 a month for a daily backup, there are two great ones: Securi Backups and VaultPress. Both of these plugins secure your website's information and stay up-to-date without any extra work for you.
Ready To Boost Your Website's User Experience?
You have the tools, you have the information, and you have the advice. Now it's time you choose the best plugins to create the best user experience on your website.
Your website is the essential tool you have to capture your visitor's attention. Keep them engaged by offering a smooth user experience. Help consumers navigate through your site and avoid including overly complicated tasks. People need instant and straightforward results.
When choosing new plugins, remember that user experience and functionality are the two most important things to consider. If the plugin accomplishes those things, you have a winner.
Author's Bio: Abril Lombardi is an SEO copywriter and content editor for https://distantjob.com/. Based on her studies on communications and her passion for real-life stories, she became a journalist and an expert on experienced-based reports. As a brand-new remote worker, she focuses on online work guides and digital nomad´s lifestyles.