We'd all agree upon (at least the e-commerce store owners) that retaining existing customers is easier than converting a new one. The latest statistics say that 80f% of your future sales will come from 20% of your customers.
If you do it right, you can retain a customer and get them to refer their friends and family. So it's a win-win!
One thing we'd all agree upon (at least the e-commerce store owners) is that it is easier to retain existing customers than to convert a new one. The latest statistics say that 80% of your future sales will come from 20% of your customers.
If you do it right, you can retain a customer and get them to refer their friends and family. So it's a win-win!
That said, it's pretty challenging to craft a marketing strategy for retaining customers, especially when the e-commerce store you just started is still in the diaper. Starting an online boutique is one thing, and marketing it is another.
Of course, once you have selected the best e-commerce platform for your online business, you can use paid advertising to get new customers. However, to retain customers, you'd need some innovative strategies. Let's get started.
1. Create a loyalty program
Regular customers that choose your store over your competitors for online shopping need to be awarded. A great way to do this is by setting up a loyalty program.
Loyalty program is a way to reward your customers in the form of gift vouchers, exclusive discounts, and cash rewards, specifically for loyal customers.
The principle behind this is reciprocity. Most regular customers won't mind buying more products or services if they are rewarded for that. We have compiled a few examples to give you a better idea of this:
The most famous example of this is Starbucks' Starbucks' reward-based loyalty program. It probably tops the best retail loyalty programs out there. You will earn 2 points for every dollar you spend. There are also other ways to gather points like in-app games, bonus stars, or Starbucks® Rewards Visa® Reward Cards subscription.
Once you collect 25 starts, you will get an espresso shot, and 50 stars will get you a bakery item or brewed hot coffee. You can get a sandwich for 200 stars.
2. Use social proof to boost trust
A brand's trustworthiness is one of the essential factors to convert your visitor. And while BBB rating and other certifications can help to an extent, you will need a legit way to prove your authority.
For this purpose, many store owners use the concept of social proof and social currency. Simply put, social proof is the recommendations made by friends, family, or industry experts. On the other hand, the social currency is your customers copying that recommendation to look good. You can provide social proof through WooCommerce product reviews, endorsements, testimonials, original tweets, or brand mentions.
3. Create personalized emails
Email marketing is used by online businesses from when sites are built without CMSs. Till now, this marketing strategy has been spammed so much that users automatically skip the newsletters. And while copywriting is an excellent start to make customers read your email copies, it won't help you with conversions.
Many eCommerce companies are now shifting to personal emails that help them connect with readers on a personal level. For starters, you can use the subscriber's name. Use short stories and private messages in your email template. You can even create surveys for both generating data and to know your audience better.
You still need to use confirmation emails or other transactional messages to notify customers about the order status. So, don't forget to work on their personalization by referring to the first name and using the brand style of the template.
4. Provide exceptional customer support
Customer support is like the backbone of most online businesses. For instance, have a look at this list of the best WordPress hosting providers. You will notice many hosting companies offer great features, but one company, SiteGround stands head-and-shoulder above Marjory because of exceptional customer support.
Create a dedicated support team for your customers that helps them with refunds and product recommendations. You can even utilize the power of email management software to improve your customer support further. In addition to pre-sales support, knowledge base, and contact email, add click to call widget.
Cloud phone systems are used by e-commerce stores more than ever. Customer-conscious brands even go one step further and allow their customers to contact them at no charge with a toll-free number which creates a caring brand image. You can directly connect with your customers and connect with them.
5. Build a niche-specific community
The above point connects with this, as happy customers make a happy community. Your online boutique should have niche-specific brand aesthetics. It would be best if you designed a store that better represents your niche.
For instance, if you sell high-end branded gifts or feminine clothes, you should use a feminine theme. Now the essential content marketing aspect that you need for building a healthy community is a successful blog. Once you start a blog for your online business, post personal stories, product updates, and in-depth how-to guides.
Next, post more often on your Facebook pages, Instagram stories, and other social media platforms. You can run a quiz or product giveaway contests to create a healthy community. But make sure that the products you reward are relevant to your niche. Use niche-specific stock photos on your Instagram page.
A quick example is the Lekki Gift Company posts gift items, so you know that their store sells gifts as soon as you land on their Instagram page.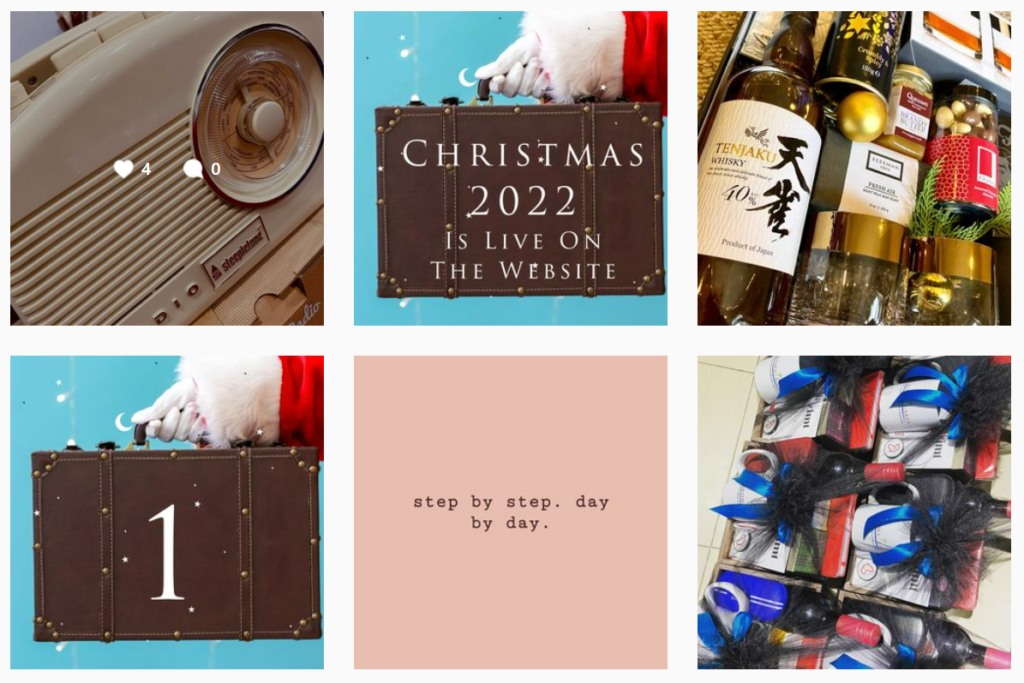 6. Use urgency/scarcity marketing technique
Urgency marketing and scarcity marketing are the two most favorite techniques for eCommerce stores. The thing is, you can not chase your customers; don't the line to get a conversion, and so you need to make them act on an immediate basis.
While both techniques create an urge to act, they are slightly different. These marketing techniques mainly work on a limited-time discount offer or limited products available to make the customer act fast. The perfect example of this is the Amazon store.

While they provide time-limited marketing, they lose the personal feel by not overdoing it. You must ensure that the customer recommendations, regular products, and other stuff remain intact and only 2-3 products have the countdown timer. By that, we mean don't overdo it.
7. Improve your Word-of-mouth
Word-of-mouth is simply the recommendations one customer makes to another that results in conversion. And when it is about retaining your customers, word-of-mouth works like a charm.
There are many ways to create word of mouth, but the top two ways are hashtags and user-generated content, including Instagram reviews and tags, product reviews, and even genuine comments.
Also, word-of-mouth can be boosted by doing good things like an act of kindness. For instance, the TOMS store gives a pair of shoes to needy people for every two shoes you buy.
Conclusion
Retaining your customers isn't difficult; you need to connect with them personally. If you own a Shopify store, try sending them chat messages using Shopify plugins like Chaty and leverage the user experience as well.
Also, minor customizations like a Shopify thank you page will be great to make your customers feel appreciated and improve retention rates.
Affiliate marketing is good for new conversions, and for retaining old customers to use referral marketing, loyalty marketing, and other offers to boost your customers' loyalty.
Now that you know some excellent customer retention strategies, you must safeguard your online business from online thefts.