Websites are undoubtedly one of the strongest foundations of an excellent online presence. Even without prior knowledge on coding, like what WordPress offers, almost everyone can freely create a website and properly distribute relevant content for their target audience. However, no matter how well you write content, people are always looking for more, especially if their demands are convenience and innovation.
One of the most popular WordPress page builder is the Elementor. It's an all-in-one hub for all your web design needs and solutions. It also offers faster performance and exceptional visual designs than other front-end site builders. It has already gained an impressive 4,000,000 active installs across 180 countries since its launch in 2016.
To supercharge your website, there are a lot of plugins to incorporate in your Elementor page; plugins that are essential in growing any kind of business, particularly those that would trigger an excellent web experience for both the developer and the visitors.
Feel free to consider the following plugins to power up your WordPress website.
1. Chaty
Amongst the primary goal of a website is to engage with visitors. Although the comment section can also open a conversation, visitors are usually searching for something more organic and convenient in terms of acquiring the necessary information based on their needs. And oftentimes, they need to get the answers right away.
This Chaty plugin is the answer to this. It activates a WordPress chat button on the bottom of your site and enables you to communicate with your customers via 16 different channels. Since your visitors might be more comfortable with using just one specific app for messages, they won't need to jump to another app for ease of access. You may choose from Chaty's long list of apps such as Facebook Messenger, Email, SMS, Snapchat, Skype, Phone (click to call), Telegram, Line, WeChat, Viber, Waze, Google maps and many others.
You may get it for free, yet it also has special features if you get the Chaty premium plan; like having customized Whatsapp message and email subject, showing all 16 channels at the same time, changing location of the widget, among others.
2. Folders
It's hard to juggle and consolidate information coming to and from all sorts of channels especially if the bulk is too big to handle. Thanks to this plugin!
If you're looking for a solution on how you could quickly organize your pages, posts and media into folders, the Folders plugin is just the right one for you. Before, during and after the development of your Elementor page, you may consistently change the order and hierarchy of your WordPress folders for each type of content, which eventually makes it easier to access data whenever you need them. The widget can also help you organize your Elementor templates based on themes, colors, and etc.
Folders can also help bloggers manage their contents and group them according to category, topic and timeline through the drag and drop interface. Almost all website owners across different industries can make the most out of this plugin since it comes with a built-in feature that marks certain folders as important, so you won't lose track in the ocean of details.
Folders is totally free for download with 10 folders that you can utilize, yet you can enjoy unlimited use if you subscribe for a premium plan.
3. Unlimited Elements for Elementor
To make your page building experience more awesome, try to incorporate this plugin that's equally awesome and totally helpful! Who wouldn't want an all-in supply for engaging and unique widgets for your page, right? Unlimited Elements for Elementor lets you find and enjoy hundreds of easy-to-use widgets in just one place, all equipped with its own built-in Widget Creator framework. The available widgets come in different categories: post, content, testimonials, reviews, marketing, media, image, logo, video, hover effect widgets, and many others which you can find in their widget catalogue.

Free widgets are precisely not hard to find. It's all here in this plugin but you can also upgrade to a premium version which would give you more than 200 unique featured widgets for Elementor that are customizable based on the specific need of your page.
4. Yoast SEO
Yes, you have a beautiful website with highly-informative content, but without you being on top of the search list, all your efforts would be nothing but ghosts. It's like you prepared for a feast but your expected visitors didn't get an invitation so no one went. Yoast SEO boasts of being the number 1 most popular WordPress plugins in terms of Search Engine Optimization (SEO). Its mission is to help every kind of brand rank higher in search engines, resulting in attracting more visitors from Google, Bing and social media, and increasing reader's engagement with valuable content.
Yoast SEO works perfectly with Elementor. Having it integrated on your Elementor page makes the pieces of your content optimized and more competitive in the digital universe since it offers well-crafted templates for title and meta description, state-of-the-art Schema implementation and the most advanced XML Sitemaps functionality in just one push. You'll also enjoy some features like video SEO, news SEO and WooCommerce SEO if you subscribe to their premium plan.
5. Tubepress
Videos could take your page to a whole new level as they keep visitors attracted and engaged for a longer time. For highly visual developers and entrepreneurs, especially those with industries related with multimedia, event videography, or those bloggers who use videos to tell stories, TubePress plugin is highly recommended. It's one of the most widely-used plugins for embedded videos, tested already by several website front-liners across the Elementor universe.
TubePress allows you to create beautiful video galleries on your Elementor page builder and adjust the size of your embedded videos from Youtube and Vimeo while retaining the aspect ratio and resolution. It's totally uncomplicated and ensures high-quality playback. TubePress plugin comes with free and premium subscriptions that are both easy to find and easy to use.
6. Wassup
Tracking your visitors real time has never been this easy and accurate with Wassup plugin. It has an easy-to-understand interface that helps you decipher, analyze and keep track of all the chronological user information through your Elementor page. What makes it more interesting is that you can monitor all the things that your visitors are doing on your website from time to time; like how long they've been reading a certain article or a specific video, or in what area have they put their focus on while browsing your blog, which in totality would help you strategize to improve the effectiveness of your content styles and distribution.
Through Wassup, it makes it effortless to connect and acquire analytics report on your Elementor page. It's also easy to distinguish the registered users from the anonymous ones on your Elementor page It makes use of anti-spam functions to detect and delete spammers and unnecessary comments.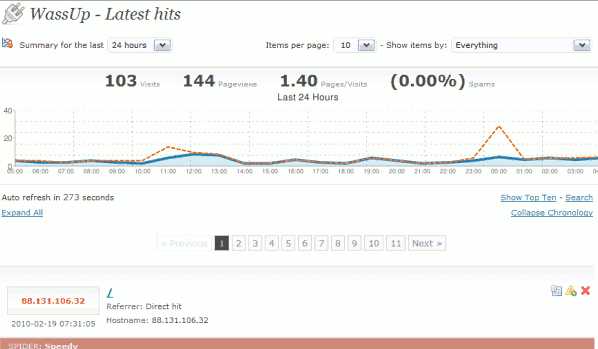 Although it's not meant to show grouped statistics (page views, visits, etc.) in a matter of months or quarters, for statistics magnates, this is entirely helpful and very convenient as they get to understand more on the latest, real-time activities of visitors. For each single user session, you get a lot of insights already more than what you can get from any other plugins.
7. Compress JPEG and PNG files
Loading your Elementor page won't be that long if you compress your JPEG and PNG files to lower sizes. Most of the time, it's the weight of the multimedia graphics and photos that makes the page longer to load. By optimizing all your images with the automatic image compressor that comes with the plugin, it speeds up workflow while maintaining a smooth user experience. On average, JPEG images are compressed by mostly 40-60% and PNG images by 50-80% without visible loss in quality and resolution, all ready to be used wherever you want to place them, like on the background or page header.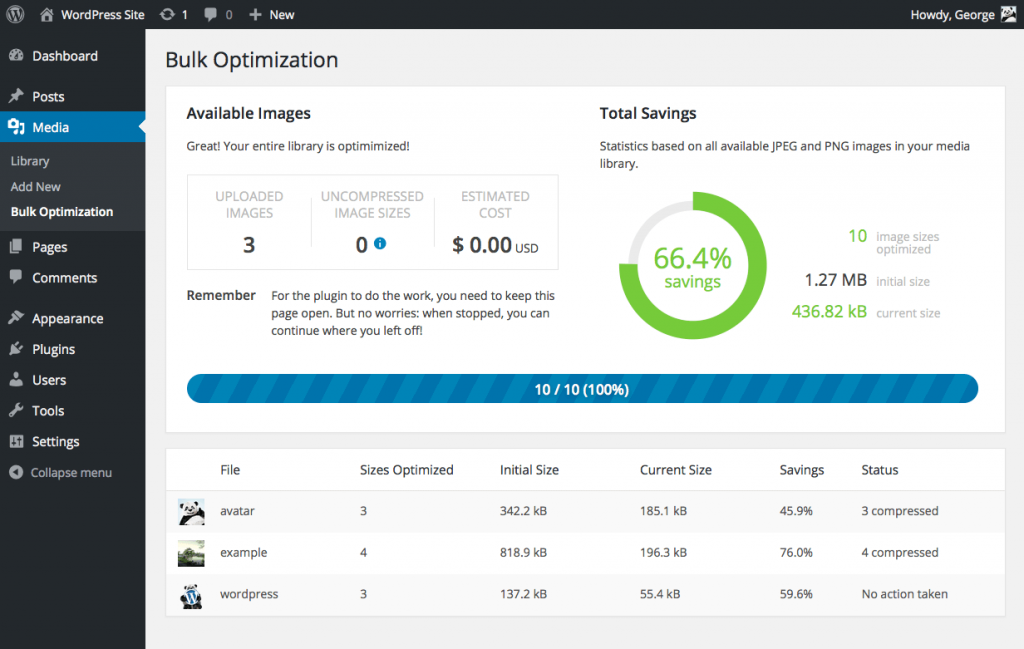 Some of its unique features include easy bulk optimization for existing library images, automatic resizing of huge photos without compromising the quality, displaying of JPEG images faster through progressive JPEG encoding, preserving copyright metadata, creation date and GPS location in your original images, optimizing animated PNGs, and a lot more.
Another beneficial aspect of this plugin is it helps you save more storage space and bandwidth. You can optimize roughly 100 images each month for free. You can enjoy this plugin without limits if you subscribe to their paid plan.
Final Thoughts: Wrap Up!
You may not know it, but all these plugins are essential in coming up with the best Elementor page for your brand. Although it differs depending on your industry, to power up your site, it's helpful to know your goals and what you want your visitors to gain whenever they pay a visit. If you want them to engage with you, you may opt to check Chaty as your channel to converse with them, or if you want to have an organized media library by categories, themes and topics, the Folders plugin is best for you.
Whatever it is that you want to achieve, plugins are sure to help you grow your business and online presence to a higher level. We rely on them to make our tasks easier and more convenient for the visitors as well.
We hope that this list would help you decide what best suits your brand objective. Way to go!