Black Friday and Cyber Monday are two of the most important shopping days. These two days are crucial if you want to boost your sales as an online retailer.
We have the best 4 interactive sticky menus and banner ideas for Black Friday and Cyber Monday. You can use this post as a helpful guide to join the Black Friday madness in 2022 and increase your email list and sales.
What is a Black Friday?
Black Friday is a popular day after Thanksgiving that marks the beginning of the shopping season. It is the busiest shopping day of the holiday season.
Historically, Black Friday can be traced to the middle of the 20th century. The Philadelphia police first used this term to describe the chaotic traffic on the day following Thanksgiving. Businesses embraced the word as it gained popularity.
Traditionally, businesses used to open their stores as early as five in the morning and offer a variety of in-store offers on everything to start Christmas early. However, the shopping craze has recently moved online, with 2021 setting a record of 179.8 million online sales over the long weekend.
According to the NRF, 46% of holiday shoppers began shopping earlier than usual in 2021. The average buyer had completed 28% of their shopping by the beginning of November.
How Can You Prepare Your Store for Black Friday and Cyber Monday?
When it comes to Black Friday marketing tactics, there is no one-size-fits-all solution. Instead, it would help if you were mindful of what will appeal to your customers the most. However, a few tried-and-true strategies might support your Black Friday deals and marketing plan.
Plan the Black Friday Deals. Remember that Black Friday is primarily about discounts and offers. Therefore, planning your sales will be crucial to getting ready for Black Friday.
Customers will visit your store on this day expecting to find a unique Black Friday bargain. Therefore, be sure to choose something distinctive, outstanding, and unique.
Use Social Media for Promotion. While some buyers like the excitement of the hunt, others like to make plans in advance and take advantage of early bird discounts. You can draw in both types of customers by promoting your sales on social media.
Expand Your Sales Channels. Black Friday will bring a wave of customers to your store. Therefore, why limit yourself to a single platform? Instead, you can use multi-channel sales to increase your earnings during this shopping frenzy.
Optimize Your Website with Sticky Menus and Banners. When a person scrolls down a page or goes around a website, a sticky menu on that page stays visible and in the same place. As a result, sticky headers, sometimes persistent navigation bars, have become a standard in web design.
Sticky navigation works well on retail, e-commerce, and other "actionable" websites where the owner wants visitors to take a specific action, such as clicking to make a purchase. These navigation menus will improve customer experience and grant them more control over their navigation on your Black Friday website.
Similarly, sticky or floating banners encourage customers to check out your products and see the best deals you have to offer them. Let's focus on this one!
4 Black Friday Sticky Menu and Banner Ideas
1. Black Friday Floating Welcome Greeting Bar
You can use a "welcome" floating bar for regular customers or the Black Friday visitors who browse your store. In addition, personalized welcome bars can help you attract more customers with a promo code or other offers.
A welcome bar greets visitors and lets them know about the fantastic deals they will see while navigating the website.
These bars serve two purposes: one, you obtain their contact, and second, you give a discount that will stimulate their interest in making an early purchase.
2. Black Friday-Themed Greeting Banner with Contact Form (So They Can Receive Special Deals by Email)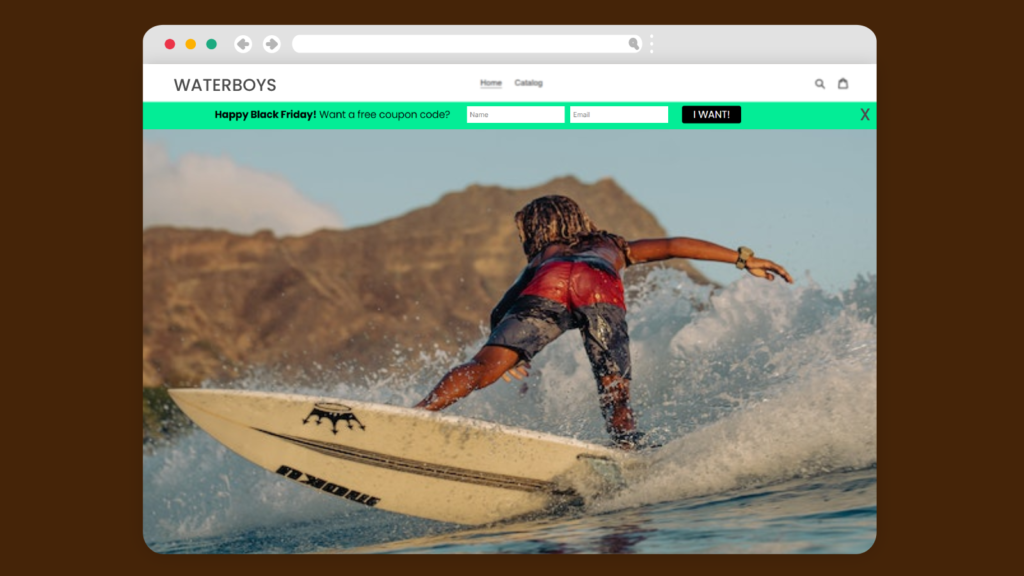 Are you looking for more ways to expand your email lists? The best way is to add a Black Friday-themed greeting banner with a contact form. It will encourage visitors to sign up for your publications or other lead magnets you plan to use.
Floating bars are subtle, which makes them more likely to produce more sales, leads, and subscriptions. Using floating banners will unquestionably result in a considerable expansion of your email list and make your visitors feel welcome.
After you have the customers' emails, make sure your Black Friday emails aren't mistaken for spam and ignored because the average customer's inbox is swamped with emails. Personalized emails always perform better than batch and blast emails.
You can launch an email campaign as a pre-sales activity to increase your sales by employing customized, eye-catching email themes and quality content.
3. Black Friday Announcement Banner with a Link to the Sales Page
Use a flash announcement banner with a link to the sales page to catch the visitors' attention. You can use it to announce time-sensitive offers, and the visitors can click on the button to redeem the offer.
Your announcement bar must be strategically scheduled and well-designed to attract your target audience. Then, when you are down to the last few hours of the Black Friday sale, you can put up a clearance sale for the grabbers.
4. Special Deals Bar with Exclusive Coupon Code (One That Customers Can Use on Checkout)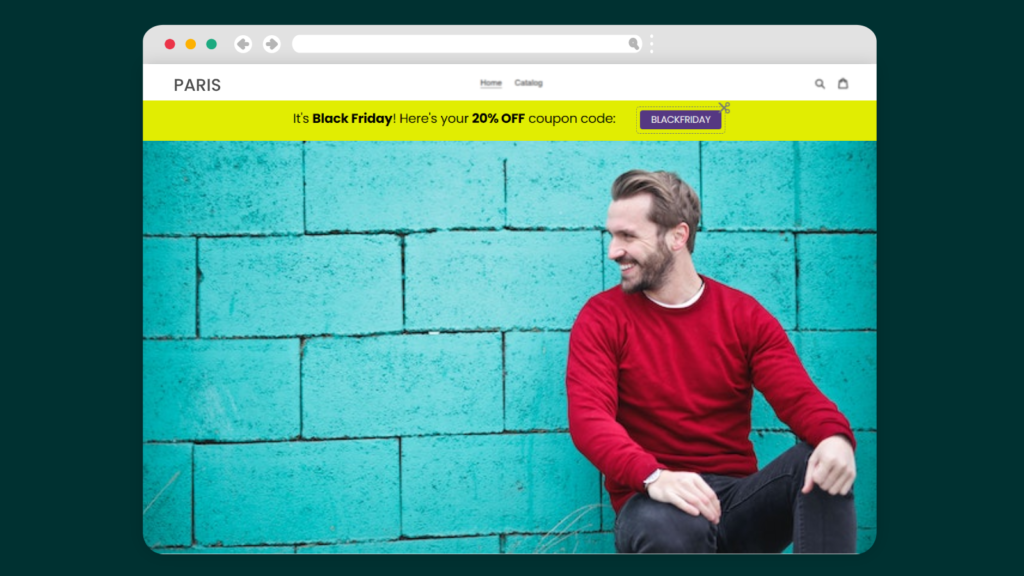 Most people in the United States claim they would take advantage of an exclusive deal. Additionally, these special deals significantly drive urgency, and with that haste, customers make purchases.
A special deals bar, such as a shipping bar, will urge customers to shop faster because anytime you tell a customer that they can save money on exclusive products, they will jump at the offer.
Providing a promo code is an excellent strategy to enhance sales from both current and potential customers. You may surprise your consumers with a coupon code at the time of checkout. This is a brilliant technique for making your offers more tempting and luring customers to your checkout process.
Use gamification in promotions such as "play to win" to attract new customers and re-engage your current ones. Another strategy for promoting your one-time discounts and specials is to "scratch a card."
Summary
Sticky menu features give visitors a sensation of control while navigating a website, boosting their confidence as they scroll up and down a page. They are aware of their possibilities and don't need to worry because they have everything they could need.
Black Friday promo or not, businesses should employ a sticky menu to attract more customers. Adding a sticky menu to an e-commerce website can boost conversion rates by about 3%. That's a significant improvement even without product page optimization.
If you're unsure how to create your own floating sticky menu form and announcement bar for Black Friday, head on to My Sticky Menu! It's one of the most user-friendly WordPress menu plugins and exceptionally delivers results. Try it here!