Imagine a text-only website or one that's bombarded with lots of pictures or video clips with no definition at all. Not appealing, right?
We are not talking about networks like YouTube or Pinterest that focus on just one type of content – even if they have a combination of multiple types, they only prefer one.
We are talking about your website. We are not saying that you will not become like the ones mentioned above or even more extensive than them (fingers crossed!). Still, for starters, you should post a combination of content on your website that people often find most engaging and informative.
These can be a combination of texts, pictures, videos, audio files, infographics, and anything similar that are put and organized in unison to avoid chaos and inconsistency.
To achieve that, the Folder plugins come into the scene!
One of them is the WordPress Media Library Folders, a brief analysis of which will be discussed shortly.
However, it is good to know that there are some more advanced WordPress Media Library Folders alternatives in case this plugin doesn't meet your needs and leaves you disappointed.
WordPress Media Library Folders: Overview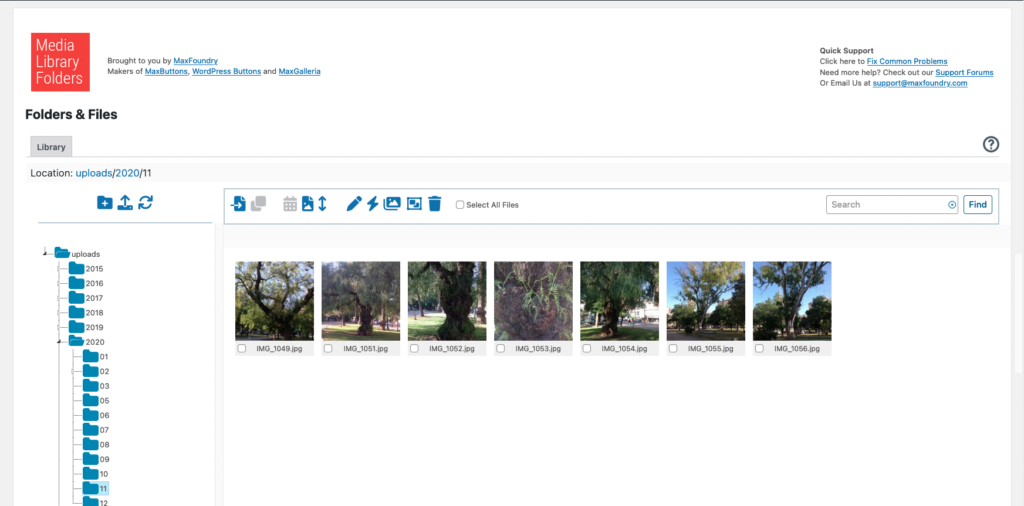 WordPress Media Library Folders is a plugin that, as the name suggests, allows you to create folders within your media library.
If you have many media files, this plugin will help you organize, categorize, and access your files easily whenever you need them.
Offered features:
Drag and drop interface
Option for the regeneration of thumbnails
SEO images' option
Button bar
Bulk selection
WordPress Media Library Folders: Pros & Cons
You need to see the good and bad sides of using WordPress Media Library Folders for a more detailed analysis.
What are the pros?
This plugin is easy to use since it uses a user-friendly interface based on a drag-and-drop system.
When uploading images, ALT tags and title attributes are automatically determined, which are essential for better SEO ranking.
What are the cons?
What's not great about WordPress Media Library Folders is that the free version is too simple. It doesn't offer many features, so it won't be beneficial if you look for a plugin that will take your organization to a much higher level.
Also, some images and links may be removed. It can be prolonged, which is not preferable since this plugin should save time.
Now, let's move on to WordPress Media Library Folders alternatives that have the potential to live up to your expectations!
One of the best WordPress Media Library Folders alternatives is the Premio Folders plugin.
This plugin originated from a Premio team that built many plugins that help create a great user experience.
In addition to Premio Folders, there are:
Chaty
My Sticky Elements
Stars Testimonials
Subscribe Forms
My Sticky Menu
WP Sticky Sidebar
Social Share Buttons
Quick 301 Redirects
Premio Folders is designed to cover everything you need to organize all your pages, posts, and other media files into folders.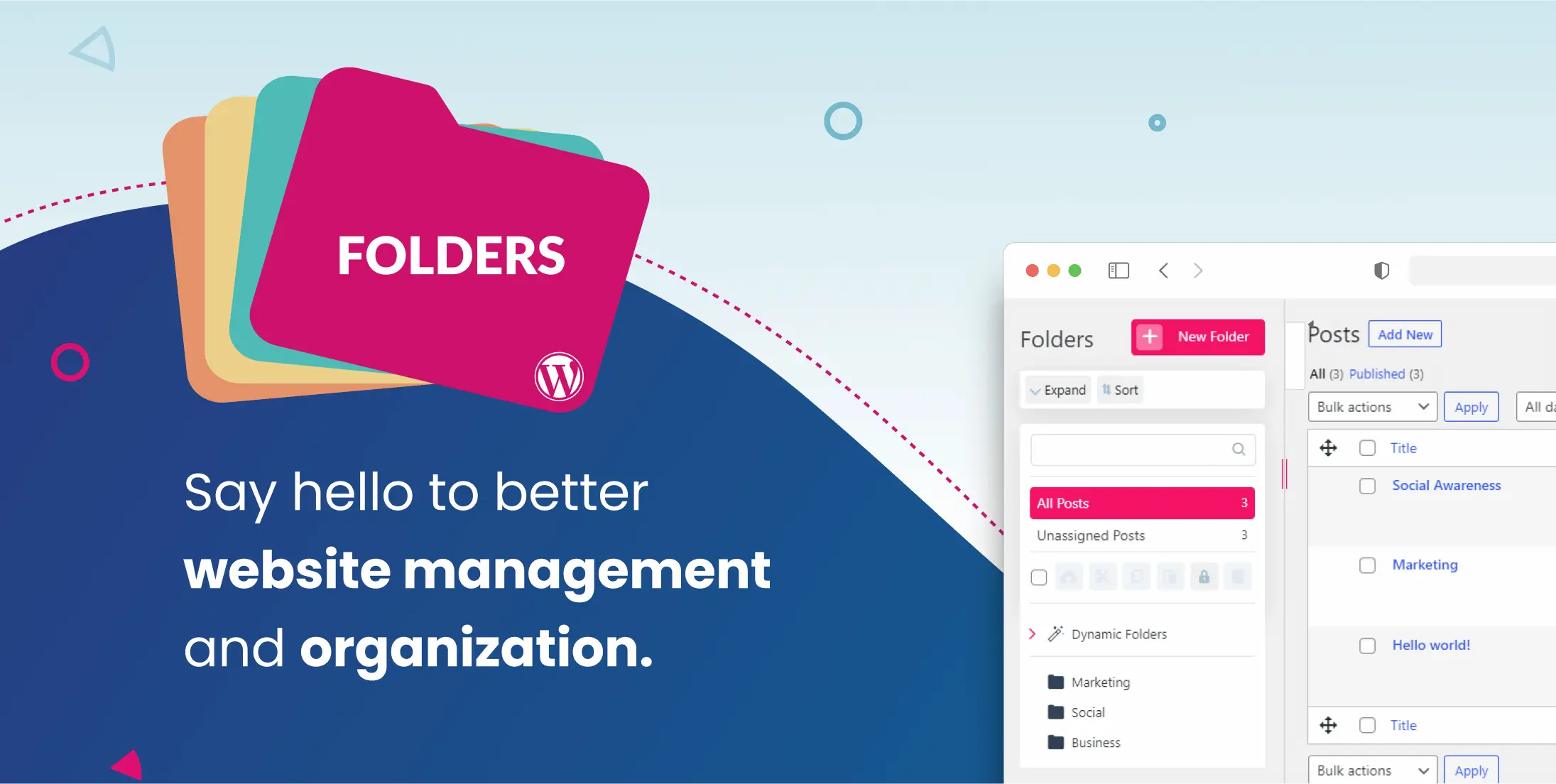 A simple drag & drop interface allows your organization to be done in minutes.
Offered features:
Folders and subfolders
Drag and drop interface
Direct upload
ZIP download
Progress bar
Bulk selection
Sticky toolbar
Customization
Stars for the most essential folders
RTL admin panel
GDPR Compliance
Integrations
You can arrange all your folders by hierarchy to help you find the most important ones. You also have the option to star the ones you want for a more enhanced data organization.
Advantages of Premio Folders
Premio Folders offers a progress bar that allows you to keep track of the current status of uploaded content.
You can customize your folders. Change the colors, sizes, and fonts of your choice.
If you want to download more content, you can do it more quickly with the ZIP download option.
It is also straightforward as it operates on a simple drag-and-drop system.
Disadvantages of Premio Folders
The free version does not offer an unlimited number of folders. Still, if you upgrade to a paid version, you can create a total number of folders so that your organization suffers no restrictions.
Premio Folders' pricing
Premio Folders also has a free version that allows you to create up to 10 folders.
Switching to one of the three paid packages, you get many useful features that you can see in the table below and all updates throughout the year.
Why is Premio Folders the best WordPress Media Library Folders' alternative?
This WordPress Media Library Folders' alternative has all of the essential high-level organization features that we have already mentioned.
It also has integrations for the most extensive website platforms like:
Gutenberg
Elementor
WP Bakery
Beaver Builder
Divi
Visual Composer
Premio Folders does not store user data, so it is also GDPR compliant.
FileBird
With FileBird, you can easily create, rename, or delete your folders and subfolders in the media library.
Using drag and drop system, you can add content or relocate your folders and content within those folders.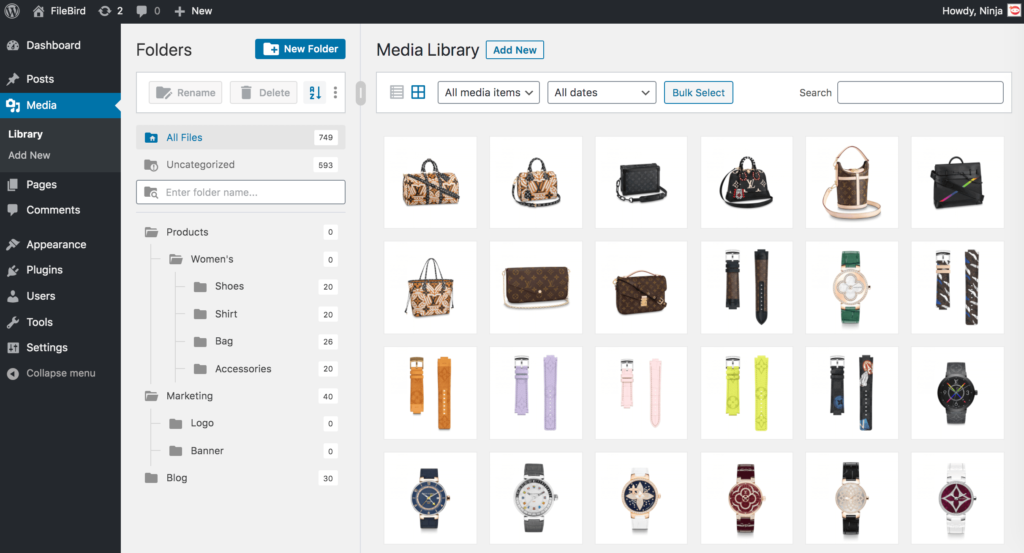 It is a simple plugin, and you do not need any preparation.
Offered features:
Drag and drop interface
Folders and subfolders
Smart context menu
One toolbar full control
RTL support
Integrations
Advantages of FileBird
The drag-and-drop interface, a principle upon which this WordPress Media Library Folders alternative operates, is a definite user-friendly advantage.
The entire control is in one tab so that you can find all the essential options on it.
Filebird also supports most of the allowed file types, so you can quickly enter them into your folders and subfolders.
Disadvantages of FileBird
The installation of the FileBird plugin may slow down the website itself, which is a severe problem regarding the visitor experience.
Specific bugs and errors that affect the time needed for the media files organization may occur.
FileBird's pricing
FileBird has a free version with up to 10 folders, but it also offers a paid package.

Why is FileBird a good WordPress Media Library Folders' alternative?
FileBird supports many files, such as images, texts, audio, PDF, and more.
It is compliant with many platforms that are used to build websites. These include Elementor, Beaver Builder, Visual Composer, and others.
FileBird is also compatible with WPML, a plugin that translates your website into any language.
And if you encounter any problem, you can contact their support to help you overcome it.
Media Library Organizer
Media Library Organizer is, like other folders plugins, designed for better organization and easier access to various folders and files.
It works with all Media Library types of views, such as:
Media Library list
Media Library Grid
Image Picker
Featured image
It is easy to use, and it helps you organize your items.
Offered features:
Folders
Bulk selection
Export and import categories
Different media library views
Media Library assistant
ZIP and unZIP addons
Advantages of Media Library Organizer
Media Library Organizer is an attractive WordPress Media Library Folders alternative with numerous features. One such feature is the Dynamic Gallery, allowing you to expand your native WP gallery.
You can display Dynamic Gallery by author, category, searched terms, and others.
It is simple to use, and it has numerous interesting and efficient features included. But, if you want to get the most out of using this plugin, the team that stands behind it has also prepared detailed documentation that can guide you through it.
Disadvantages of Media Library Organizer
Media Library Organizer does not offer a free version, so you must use some paid packages to unlock all the add-ons and features you need for a better organization.
Media Library Organizer's pricing
This plugin has several paid packages based on what features you want to use. But, if you are not satisfied, they have a money-back guarantee.
Why is Media Library Organizer another fantastic WordPress Media Library Folders' alternative?
Media Library Organizer is easy to use, and it is effective when it comes to categorizing all your media files.
You can also extract files from ZIP archives and multiple media library files.
It has also been tested, so it will not adversely affect your website's speed of loading and operation.
The bottom line
Content organization and distribution must not be neglected, as they can severely affect the overall business.
Therefore, whether you are programming or editing websites, blogging, working for clients, or yourself, you should take advantage of all the features that Folders plugins offer.
If you are looking for a plugin that will fulfill your expectations and make the business not suffer but only strive, try Premio Folders.
Numerous features designed for enhanced organization will save you time and allow you to publish content precisely what your audience craves consistently!