Integration makes Shopify stand out among other store builders.
In case you're not installing enough Shopify apps, you're not leveraging its full potential.
Go through this article, and you'll find out how these 15 free Shopify apps can make your store lively.
1. Chaty for Shopify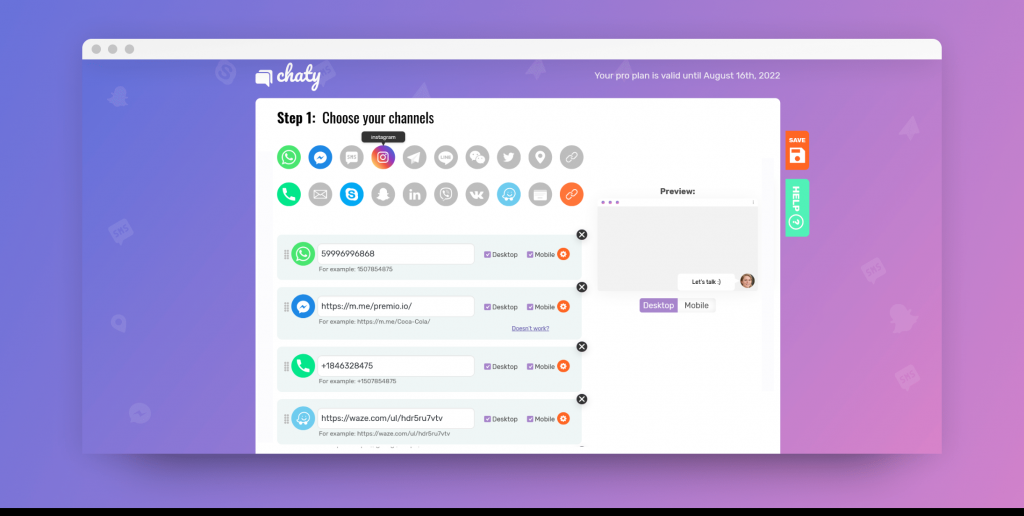 In today's era, visitors prefer to chat via various platforms like Telegram, Facebook Messenger, WhatsApp, etc.
Chaty for Shopify allows visitors to chat via 20 different channels, isn't that great?
Not only this, but it also offers features like:
Shows all channel in one go
Location of the widget can be changed on the screen by pixel
Shows only specific pages you pick
Google analytics tracking
7 different colours for chat interface
Target specific countries
Show available hours
2. Sticky Floating Contact Form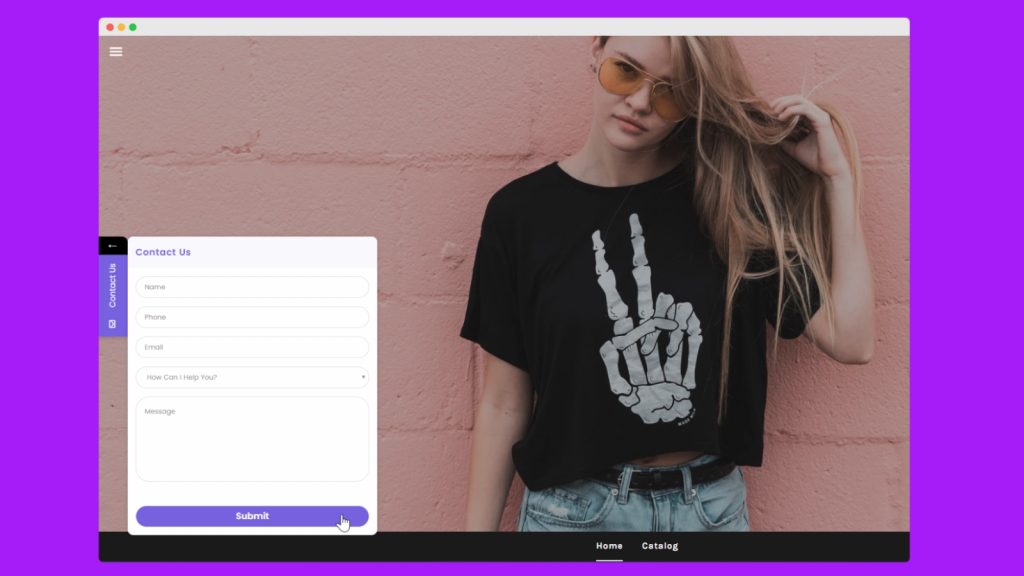 Sticky Floating Contact Form by Premio allows you to put up a floating Contact Us form on your web pages.
In addition to this, Sticky has a bunch of unique features like:
A customizable contact form with custom CSS styles and height positions
Social buttons for Facebook, Instagram, WhatsApp, etc
Custom fields like text, text area, website, number fields, etc
A GDPR consent checkbox
Entry effect for the form
Mobile & desktop support
MailChimp and Klaviyo integrations
Multiple Widgets
Although the app is free to use, it has 3 premium plans that enable different features and increase the visitor limit.
Here, take a look:
3. Fast Checkout In One Click
Fast Checkout In One Click is an app that can close an instant sale for you.
As the name suggests, the app allows you to add a Cart window pop-up on the products.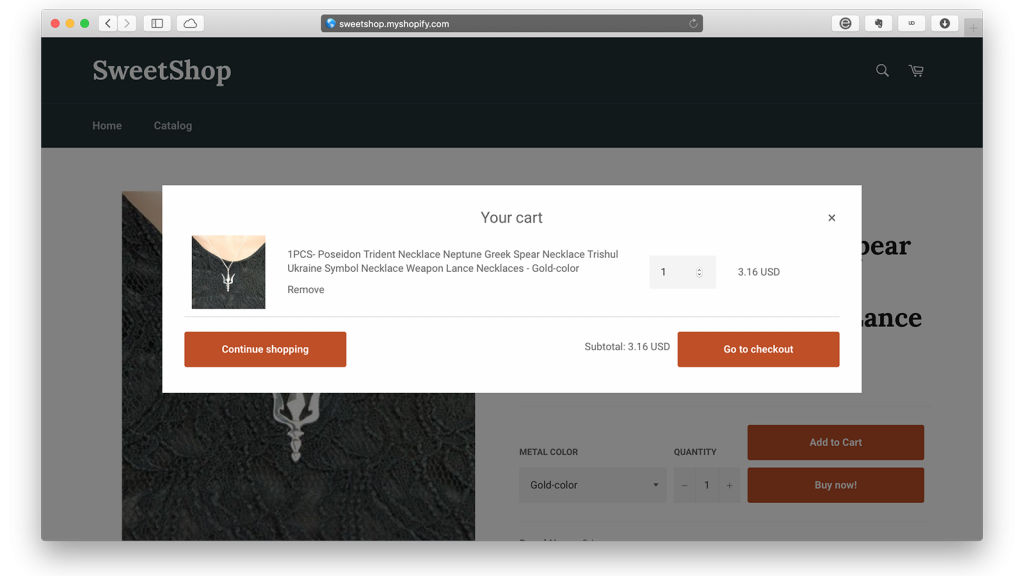 This app is a massive time-saver for your customers and increases the conversion rate for your listings.
Here are a few more features of this app:
Add a Buy Now button or a Fast Checkout button on the products page
Simple installation without any coding
Multi-theme compatibility
Mobile-friendly app
The app also has a premium subscription at $4.49/month that allows you to use it on unlimited products with premium support and button customization.
4. Holiday Effects
Holiday Effects by Omega is a website decoration app that can surprise your visitors during the holiday season.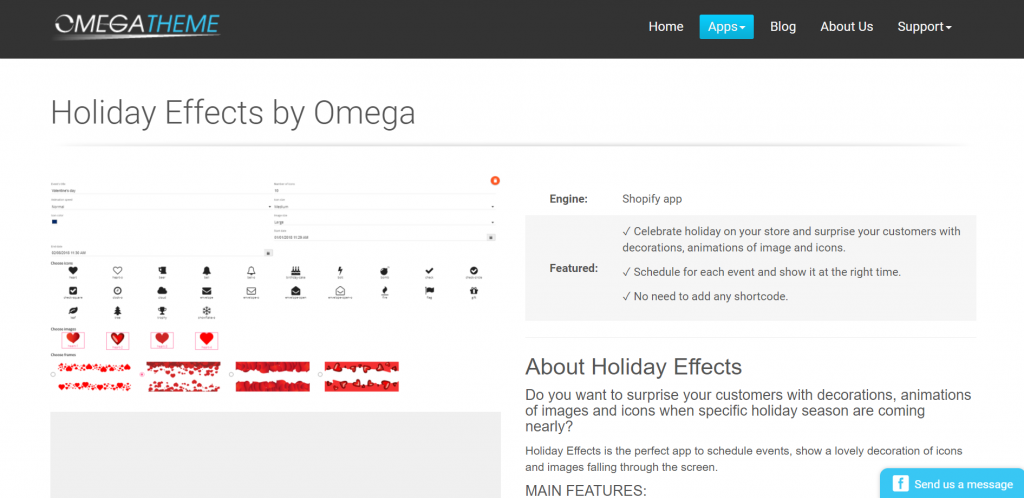 The app lets you have special decorations, image animations, and custom icons during the holiday seasons.
Here are key features of Holiday Effects:
Schedule events beforehand to set the proper date and time for the event
Multiple choices and themes for the image animations and icons
Display options for the homepage or other pages
Mobile-friendly app with premium support
Holiday Effects by Omega is a premium app for $1.99/month. However, you can use it with a 3-day trial.

Shopify Ship Rate and Track app by PluginHive is an ideal shipping automation app by displaying live FedEx shipping rates at the checkout, prints FedEx shipping labels, and live FedEx orders tracking.
The app is officially certified by FedEx and supports all FedEx domestic & international shipping services.
Prints order manifests, request carrier pickups and prints FedEx return labels
Provides 80% discounts* on shipping costs with a new FedEx business account
Use FedEx One Rate & FedEx SmartPost shipping within Shopify
Supports Multiplay Parcel Packing Methods are available
FedEx special services to ship dangerous goods, perishables with dry ice, alcohol or wine, etc
ETD support for FedEx International Shipments
24×7 customer support with 1-on-1 onboarding
Pricing
The app includes a 15-day free trial and for premium features upgrade the pricing plan to $19/month
6. Promote Me
Promote Me is a bundle of Shopify apps by MakeProSimp, which is known for boosting conversion.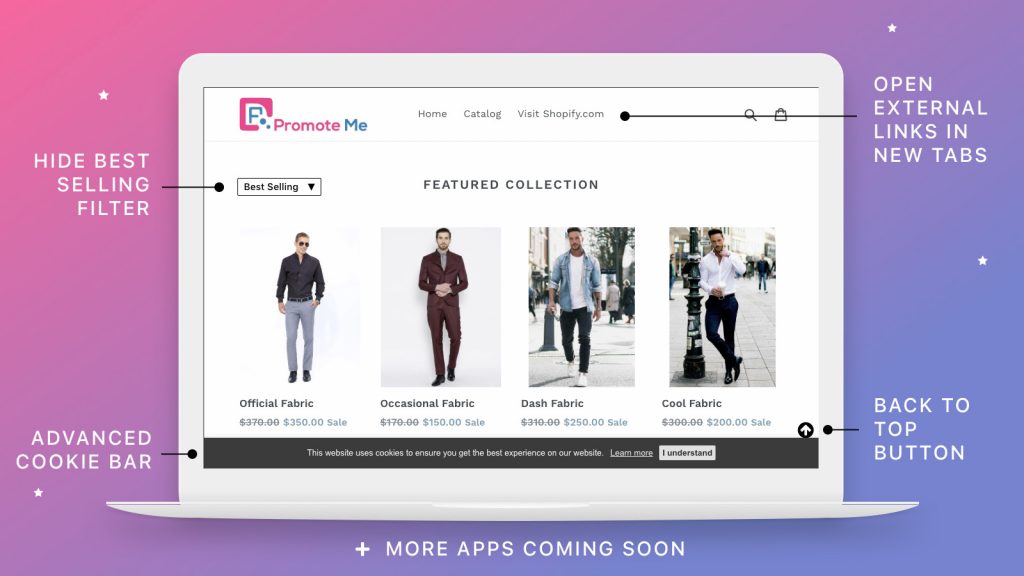 All the apps included in the bundle are mostly used for stand-alone tasks for things like finetuning, security, boosting sales, etc.
Here's a list of all the apps in the Promote Me bundle: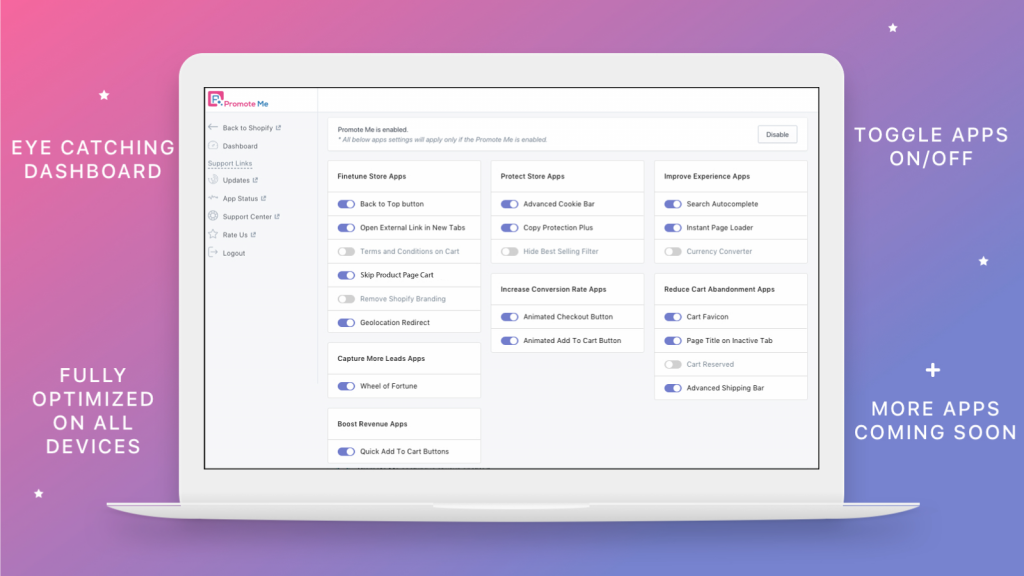 The app bundle is free for 1000 visitors/month. But to have more, you need to opt for a premium subscription that goes from $4.99/month to $12.99/month.
7. Trust Badge Generator 2.0
The tool gives you a series of trust badges that you can customize and set up as per your store in less than 2 minutes.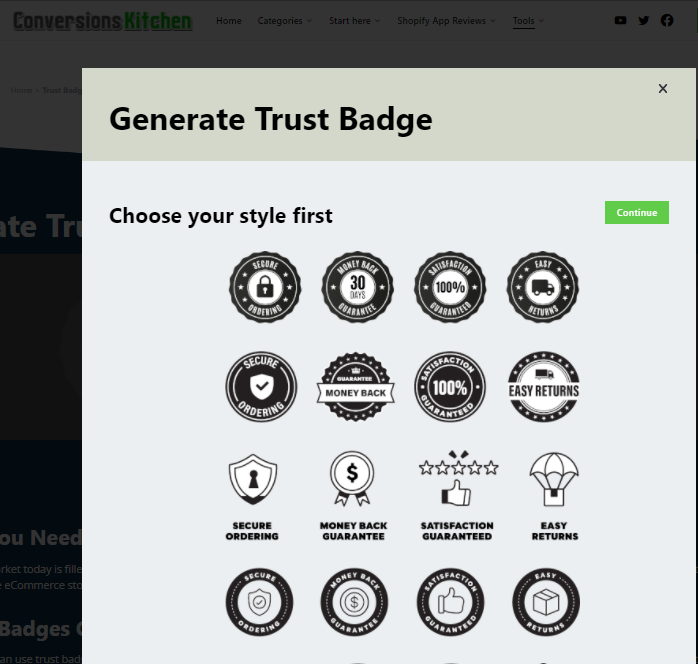 Here are some of its features you should know about:
Gives you a variety of badges for various pages to choose from
Change the badge color according to your store's theme
Preview and download the badge in just 2 clicks
The Trust Badge Generator 2.0 by Conversionskitchen is a free-to-use tool and a fast way to get beautiful badges for your eCommerce store.
8. Loox
Loox collects quality product reviews and adds them to your web pages or product pages.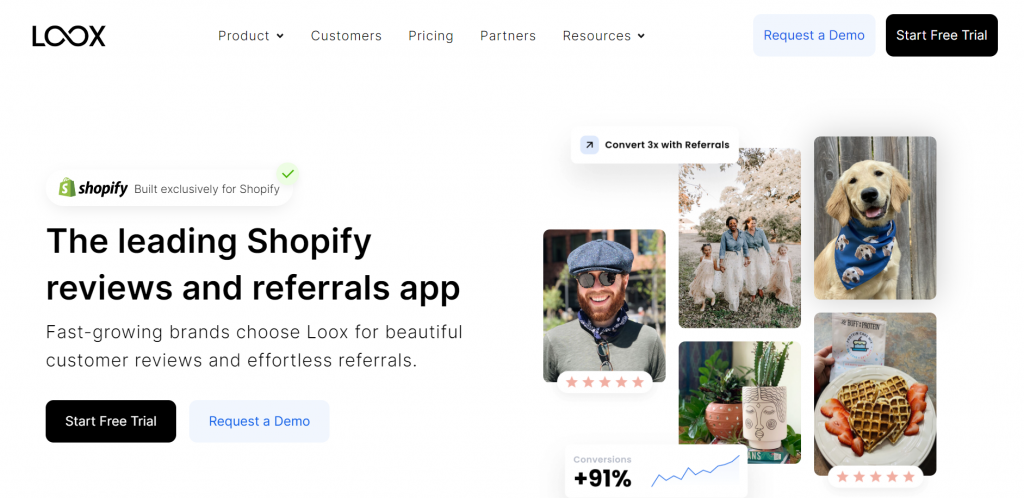 Here are a few of the features of the Loox app that may amaze you:
Create customizable review requests and emails with options to schedule the request by delivery time and orders
Display options to view the reviews in grid/list formats, carousels, pop ups, or sidebars
Discount codes option for photo reviews
Available in 17 languages
Import, moderate, and reply to reviews
SEO-friendly with an option to display reviews on the search results page
GDPR compliant
The app gives 100 reviews for free each month. But if you pay $99.99/month, you can get a limit of 2000 reviews.
9. Swatchy Color Swatches
Swatchy Color Swatches by Cupel Apps allows you to display a color swatch and an image swatch for collections and product pages.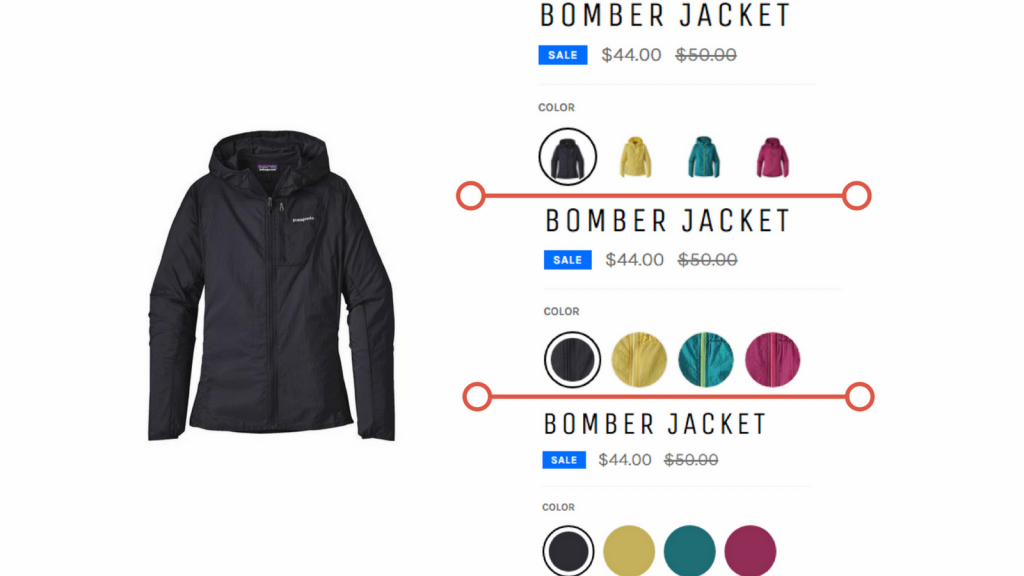 The app improves user experience by presenting variant options with vibrant color swatches.
Whenever a shopper clicks on any of the products, they will see multiple color options for the same product.
As of now, Swatchy is available at a one-time price of $25. But yes, you can have its 5-day free trial.
10. MLV Auto Currency Switcher
The MLV auto currency switcher is a great app if your business is active in several countries.
As the name suggests, MLV enables currency options for your order checkouts.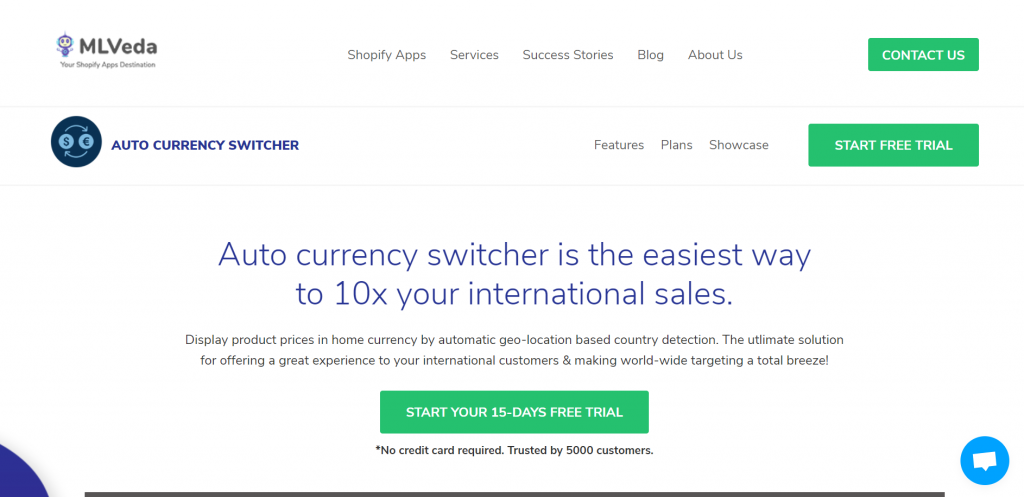 By having customer's native currency enabled during the checkout, you can help them make a better decision.
Here are a few features of MLV that you should know about:
User readable price figures
Automatic geographical location detection
Live currency conversion rates
Integration with Shopify Multi Currency
First, the app is free to use. But to utilize the automatic geolocation and user-readable price figures, you've to get the premium subscription at $9.95/month.
11. Growave
Growave offers all-in-one marketing solutions in one app.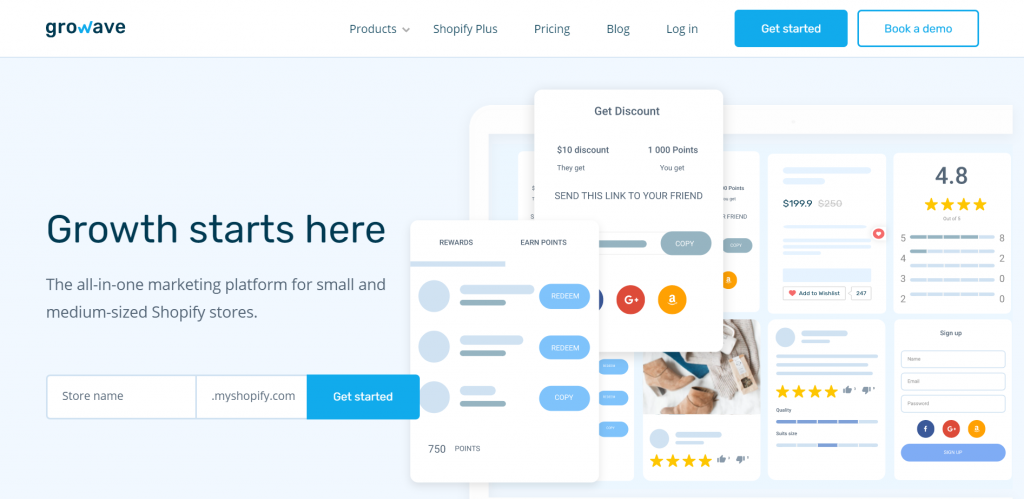 With Growave, you can add the following features to your store:
Loyalty program gift cards and rewards for frequent customers
Customer reviews and a platform for user-generated content
Shop Instagram feed compatible with new Instagram API
Adds a wishlist section for shoppers
Referral program
Easy 1-click social login with Facebook, Twitter, Google, etc.
In addition, this app has 4 different pricing options that start from $19/month and end up at $99/month.
12. Free Shipping Bar
Free Shipping Bar by Hextom allows you to add a customizable slide-out bar to display your free shipping offer.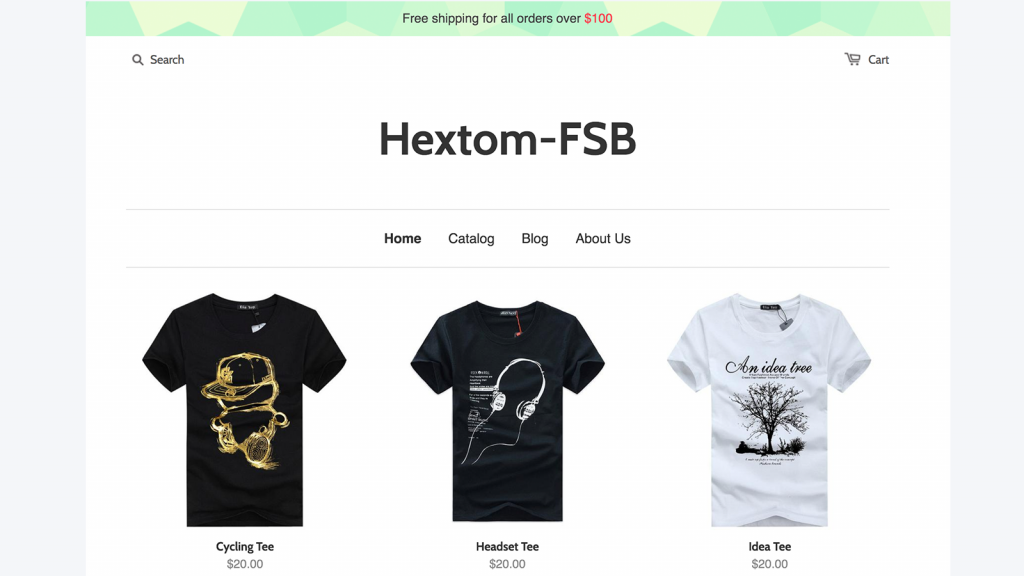 With this app, you can highlight your free shipping offers with progressive messaging on customizable bars and popups.
Here's what you can expect from this app:
Fully customizable and responsive bar with emoji support, background images, and custom positions
Advanced targeting for different countries, pages, and devices
Curated holiday themes
Desktop, tablet, and mobile compatibility
The app is free to use, but if you want advanced targeting, performance tracking, and unlimited bars, you need to pay $9.99/month.
13. Wiser
Wiser shows personalized AI-based recommendations that increase your conversion rate.
After all, it shows products that a customer might be interested in.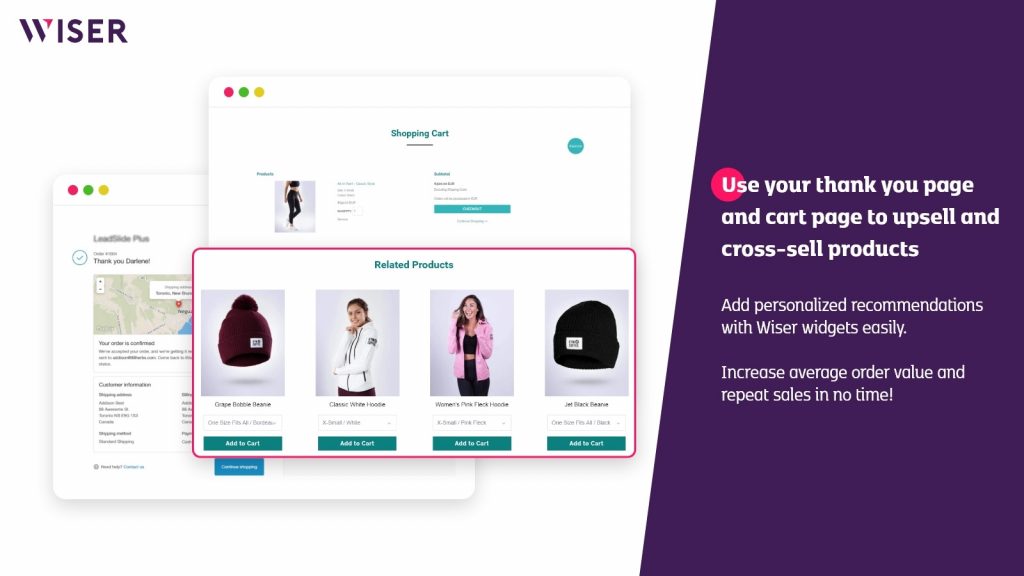 You can have the following types of recommendations with this app:
Recommendations inspired by user's browsing history
Frequently bought together
Checkout page recommendations
Thank you page recommendations
Manual recommendations (Handpicked)
Related Products (AI-Based & Conditional Logic)
Smart Upsell Popups
Best Sellers
New Arrivals
Trending Items
Recently Viewed
Wiser is free to use for the basic recommendations.
However, it would be best to have a premium subscription of either $149/month or $299/month to access featured recommendations.
14. Spocket
Spocket is an app that enables EU and US dropshipping for your Shopify store.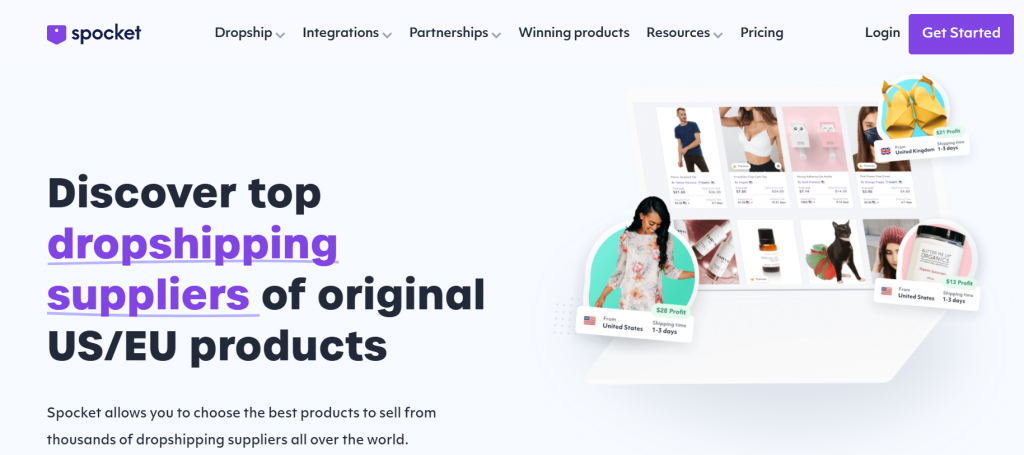 With Spocket, you can access dropshipping suppliers from the USA, EU, Australia, Canada, and much more.
Here are a few dropshipping features that you can get from Spocket:
Spocket claims the highest discounts and great wholesale pricing for dropshipping
Auto-update your inventory with products that are ready to be shipped
Fulfill orders with one click
Test products with sample orders
Real-time order tracking and branded invoicing
Although Spocket is free for browsing the catalog, contacting suppliers and using all the features of this app would require a premium subscription.
The pricing options start from $24/month to about $99/month.
15. DSers AliExpress Dropshipping
DSers process hundreds of orders and find new suppliers for AliExpress Dropshipping.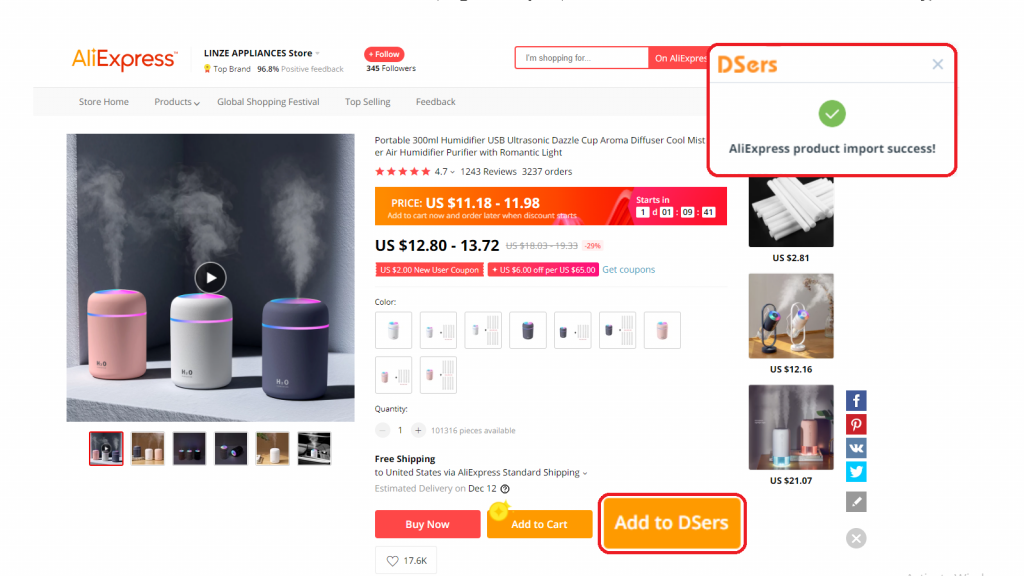 To get started, you can create a DSers account and link it with your AliExpress to enjoy the following benefits:
Enjoy AliExpress whitelist
Place multiple orders to AliExpress in a single click
Find, import, and edit products
Optimize your suppliers
Track and sync shipping information
Create bundles and BOGO offers
You can access the DSers app for free for only one account.
You can get a premium subscription that goes from $1.99/month to $49.90/month for multiple accounts.
16. Digital Downloads by Shopify
Digital Downloads by Shopify offers digital products on your Shopify store.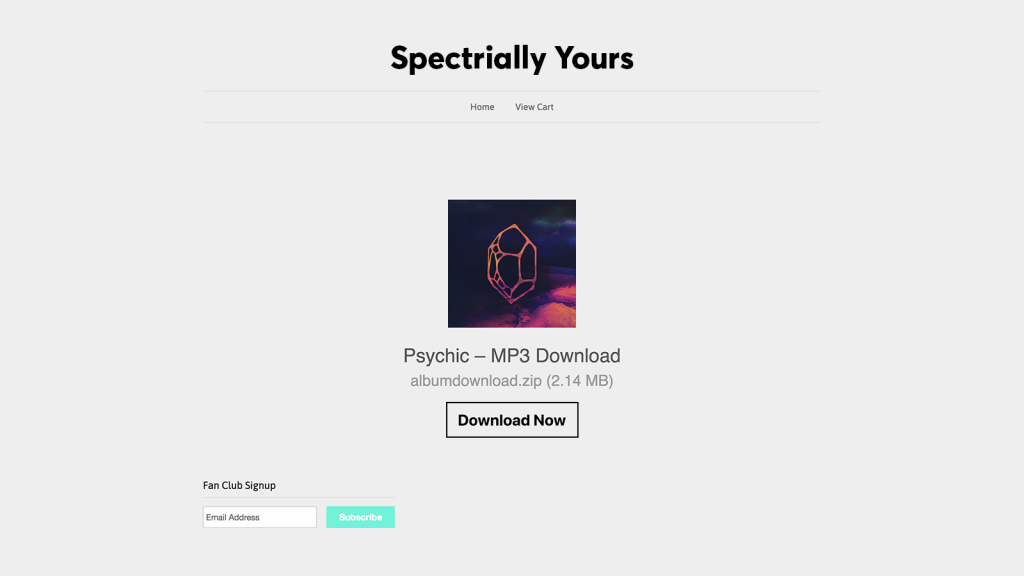 You can let your customers buy digital products and download them immediately after checkout.
Here are some of the most notable features of this app:
Digital attachments like linked to variants of particular products
Offers a combination of physical and digital products
Set download limits
The Digital Downloads app by Shopify is completely free to use.
17. Octane AI
Octane AI allows you to add Shop Quiz and SMS automation to your Shopify store.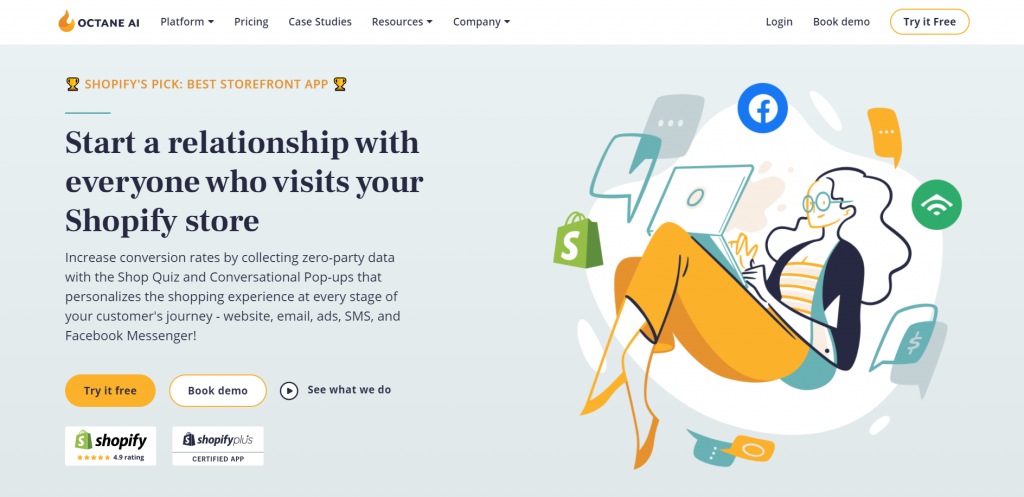 Octane AI's shop quiz and personalized messages ask the customer to share a few details which can be used for personalization and increasing conversions.
With the Zero-data collection, you can get benefits like:
Visitor information
Personalized product and bundle recommendations
Grow your marketing list
Improve email and SMS ROI by syncing data to Klaviyo
Grow engagement with purchase flows
Octane AI is available at $29/month for all major features of the app.