Are you planning to integrate online appointment booking into your business? Do you want the best calendar and appointment booking WordPress plugins? Then, this guide is for you!
It is critical to take a close look at the features of every WordPress booking plugin. You will gain the necessary functionality and flexibility to grow your business in return. Once you find the right one, customer retention is easier to achieve.
This guide will reveal the top 10 calendar and appointment WordPress plugins to you.
1. StartBooking
Price: Individual – $12/month, Business – $28/month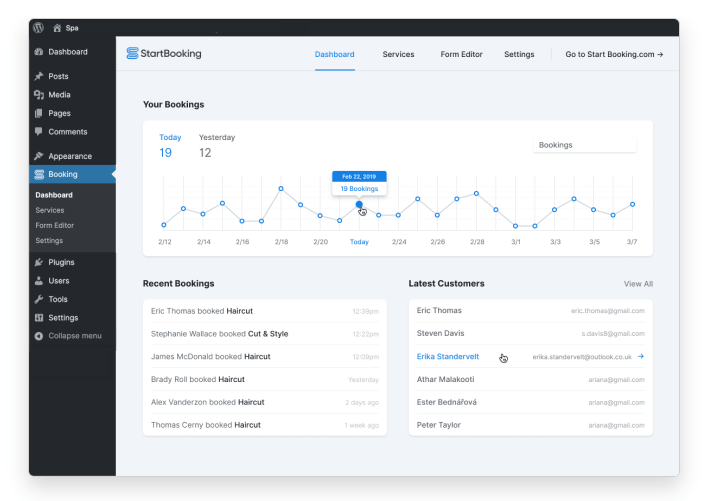 StartBooking is one of the most potent 59-lifetime more powerful WordPress booking plugins available on the market. You can download and install it easily to manage all your service appointment requirements.
It offers a clean customer-facing interface from which they can choose from the services list with available dates and times. Once your customers are ready to book appointments, StartBooking captures their information and ensures a professional booking experience.
You can also integrate StartBooking with Stripe to capture online payments for every appointment booking. It also ensures easy payment processing. This WordPress booking plugin also increases conversion. It converts the users directly to the website they visited and trust.
Features:
Easy Google Calendar integration
Fully customizable and easy to configure
Handles group and class booking
No overlapping appointments
Books and manages unlimited appointments
Access to critical booking analytics
2. Easy Appointments
Price: Free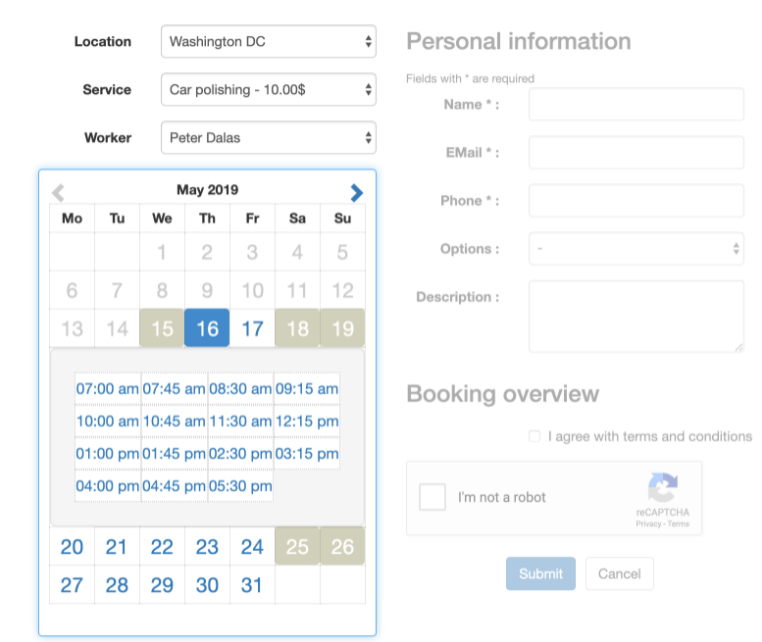 Easy Appointments is available in more than 21 languages. You can even optimize this powerful WordPress booking plugin for mobile devices. It allows you to embed forms and calenders into your WordPress pages and posts with a shortcode.
Additionally, you can easily set the hours and days available for customers to book. Then, the booking appointments automatically sync with the Google Calendar.
You can turn on different notifications if changes are made, including reminders, cancellations, service change, topic, location, provider, time, and date.
Features:
Multiple locations, services, and workers
Creates time slots by connection worker, service, location, and time/date
Flexible time table
Provides email notifications
Offers single and two-column responsive Bootstrap layouts
Custom form fields
3. BookingPress
Price: Free

The BookingPress WordPress Appointment Plugin is a free, advanced, easy-to-use online booking plugin. It's suitable for any service-based business website. It's more dynamic and packed with superb features that make the online appointment booking experience faster and smoother.
BookingPress includes a classical step-by-step booking wizard system with a modern and user-friendly UIUX that suits almost all businesses. It is the only WordPress FREE appointment scheduling plugin that provides a PayPal payment option to customers. You can make and manage appointments from the admin dashboard without using a third-party plugin. You can sort, filter, and search your client list and bookings.
BookingPress is an excellent online booking plugin for Salons, Spas, tutors, barbershops, consultants, wedding planners, and other businesses.
Features:
Excellent admin dashboard
24/7 Appointment scheduling
Unlimited services & bookings
Excellent Responsive design with great UI/UX.
Page builder' support (Gutenberg, Elementor, WPBakery, Classic Editor)
Translation Ready (In-built translations for French, German, Russian, Dutch, and Arabic languages.)
Customized email notifications
Online payment processing with solid PayPal payment
Options for Quick and Easy Setup.
In-built spam protection
4. Integrately
Besides using the above-listed plugins, you can also opt for automation that saves you time and improves your productivity. Integrately is one such automation tool. With support for 900+ apps and millions of ready-to-use automation, it can help automate your tasks like:
Sending a welcome email for each new invitee in Calendly,
Sending a notification to the concerned person on an appointment booking
Creating tasks in Google Tasks for each new appointment booking, and much more!
Try it out and discover how it may assist you in improving your productivity!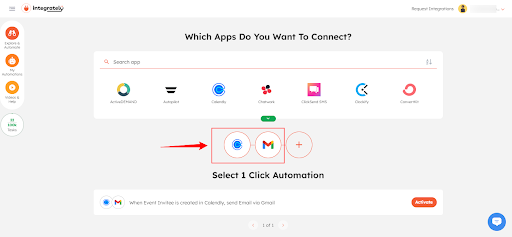 5. Booknetic
Price: $79, lifetime license
Booknetic is a multi-purpose appointment booking plugin for WordPress that allows businesses to automate their online bookings. Using various integration channels will automate booking procedures from booking to holding online appointments.
The WordPress appointment plugin reduces the cost and time spent communicating with automated notifications and reminders.
Booknetic represents comprehensive reports on the number of scheduled events in their respective categories during a definite time slot. You can receive detailed insights into the sales statistics employee contributions and make comparisons based on the source of revenue.
Features:
Modern front-end and back-end interfaces
Drag-and-drop form builder
Control appointment availability with custom working hours, buffer times, holidays, and more
Add multiple services/employees/locations
Charge for bookings with PayPal/Stripe or a WooCommerce integration
Offer coupons/discounts
Create group appointments or recurring appointments
Two-way sync with Google Calendar
Send customizable notifications via email or SMS
Link staff members with WordPress accounts so that each of them can get their custom dashboard
6. Bookafy
Pricing: Pro – $7/month, Pro+ – $11/month
Bookafy is a free online booking platform for meetings, demos, and appointments that includes integration with WordPress through Zapier.
Organizations can provide their customers with access to scheduling their own meetings, calls, or appointments, and all appointment information can be synchronized with iCal, Outlook, Exchange, and Google calendars.
Features:
Two way calendar sync
SMS text reminders
Skill based routing
Use your domain
Whitelabel Branding
Payment
7. Amelia
Price: Free, $59 – lifetime license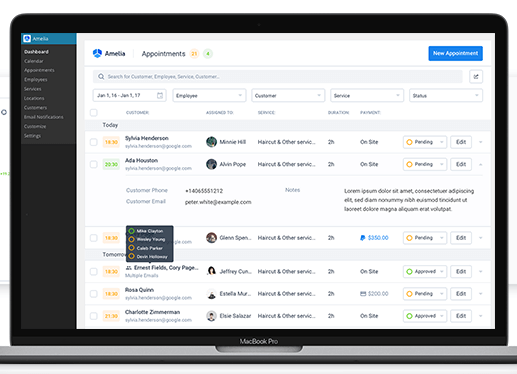 Amelia is another powerful WordPress booking plugin that is easy to use. It works round-the-clock to ensure that the customers can make appointments. It also allows your customers to pay online or offline.
You can take advantage of it for free, making it suitable for small businesses. However, if you are a larger business, the paid version with a lifetime license is a great option.
This booking plugin offers lots of built-in functions. It provides reliable SMS notifications, allowing you to instantly connect with your customers and employees. Through the Google Calendar Synchronization, your employers can keep track of their personal Google calendar appointments.
Features:
Multiple business locations
Keep customers and employees updated on the appointments in real-time
Adds multiple employees with customized days off and working hours
Configures date ranges and specific dates with various schedule
Two-way Google Calendar Integration for employees
Offers diagrams and graphs for different business performance KPIs
Adds discount coupons
WooCommerce integration
8. JetAppointment
Price: Design Plan – $49/yearly (1 website), Multi-tool Plan – $69/yearly (1 website), Ecommerce Plan – $69 (1 website)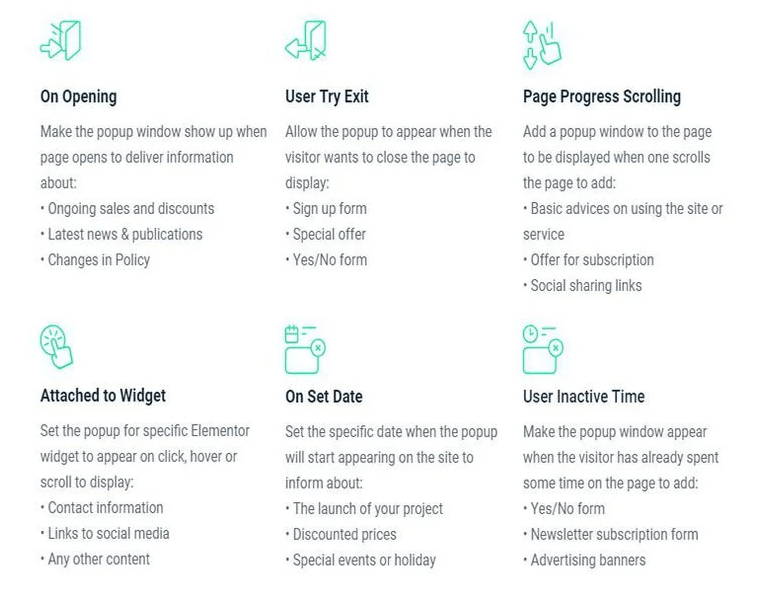 JetAppointment offers lots of flexibility to customize the front-end booking form. Besides the easy-to-style booking forms, it also comes with filtering options for customer use.
This appointment and calendar booking WordPress plugin support Woocommerce integration. It is fully comprehensive and easy to install. It also synchronizes with Ical, Integromat, Zapier, and Google Calendar.
Features:
Allows to set working hours and days off
Supports multiple services and locations
Buffers time options before and after the sessions
Allows to use single forms
9. BooklyPro
Price: Free, $89 one time payment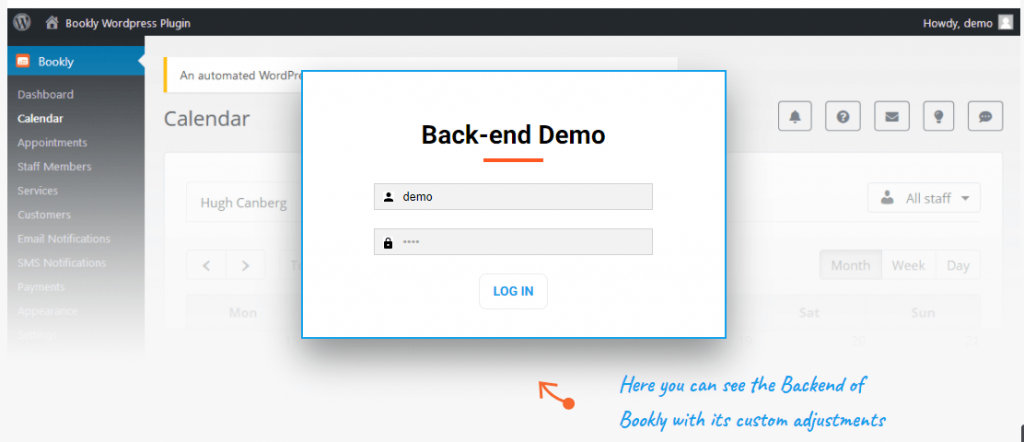 BooklyPro is a top choice if you require lots of assignable back-end booking features. It allows your employees to stay on top of the upcoming appointments, thanks to the automated notifications. It also enables the employees to connect their Google Calendars to different booking services.
This booking plugin lets you manage multiple bookings with ease. If you are driving a growing team, this is a perfect solution. While you can use the free plugin version, the paid version is better if you want to access advanced booking features and support.
Features:
Attractive front-facing design and booking forms
Integrates with WooCommerce and Google Calendars
Fully responsive booking features
Built-in analytics and lots of booking statistics
Works on any screen size
Offers connectivity to multiple third-party systems
Accepts payment through different payment getaways, such as PayPal and Stripe
10. Team Booking
Price: $28/month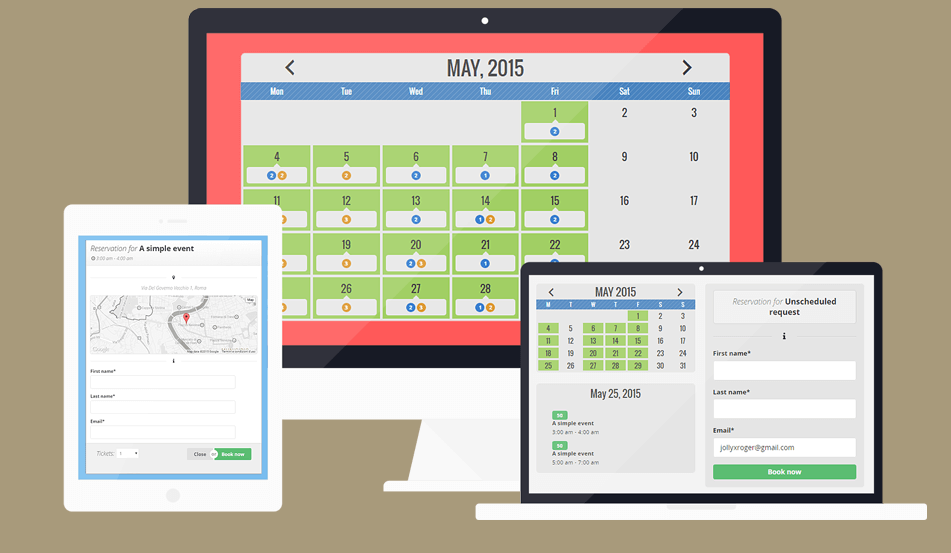 Team Booking has a fully responsive design that easily integrates with Google Maps. It offers a robust set of features and a pre-appointment approval system. Its shortcode system lets you place multiple functionalities into the booking system with a simple click.
This affordable WordPress booking plugin lets you connect with different payment platforms, including PayPal and Stripe. It has three built-in formats: regular front-end calendar, unscheduled services, and upcoming events.
Since it offers excellent flexibility, you can add multiple fields. You can also collect customer data quickly. Every time your customers want to reserve time slots, you can incorporate maps.
Features:
Accepts payment through PayPal and Stripe
Separates schedules based on how many service providers and employees are
Integrates with Google Calendar
Very affordable
Modern and beautiful booking forms with minimal steps
Maps are integrated into the booking forms
11. LatePoint
Price: $79/month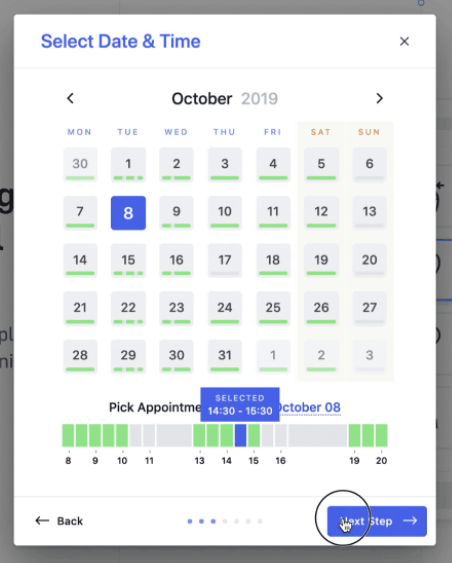 LatePoint is one of the most intuitive and most straightforward bookings and appointment plugins. You can create Zoom meetings for booked appointments automatically. It allows you to chat with customers to answer their questions regarding the arrangements and send them reminders and SMS notifications.
Your team can customize their appointment and schedules available through their dashboards. The setup process only takes less than five minutes to complete. Once installed and set up, you can create agents, set working hours, and add services.
Additionally, your customer can log in with popular social networks to pre-fill the personal information. After creating an account, they can start managing their reservations online.
Overall, Latepoint is a must-have booking plugin. You can rely on its modern and clean admin dashboard to easily control customers and services and see agent performance reports.
Features:
Connects employees to the zoom accounts and creates zoom meetings automatically
Supports multiple payment processors
Easy to use employee personal dashboard
Allows to chat with customers and send downloadable files
Features timezone selector to work with customers worldwide
Provides reminders and SMS notifications
Allows to login with social networks
12. HBook
Price: $59/month

HBook allows you to create booking forms and availability calendars to accept online reservations. It offers lots of flexibility and functionality to set seasonal rates. You can also set discounts for cleaning fees, minimum stays, more extended stays, etc.
This top-rated WordPress booking plugin is ideal for people who own a business in the hospitality industry, including campgrounds, holiday apartments, hotels, B&B, to name a few. It features a drag-and-drop form builder, allowing you to choose which customer details to connect.
You can synchronize your bookings with different websites, including Booking.com, VRBO, HomeAway, and Airbnb. The shortcode support enables you to add booking forms, table rates, and availability calendars anywhere on the WordPress website in a matter of seconds.
Features:
Calendar view to see available bookings with ease
Has reservation table to view details of all bookings, changes accommodation, and add comments
Multiple payment methods, such as Mollie, Cardlink, Square, PayPal, Stripe, etc.
13. WooCommerce Bookings & Appointment
Price = Single site-$99, 5 sites $149, 25 sites- $259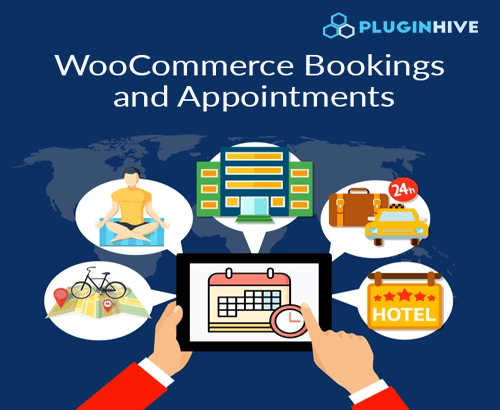 WooCommerce Bookings and Appointments is a powerful plugin that allows you to convert your Time, Products, or Services into Bookable Resources. This plugin allows service providers and businesses of all types to easily integrate and empower their WooCommerce website with a booking solution.
You can offer single and multiple-day bookings, flexible day bookings with start and end times, recurring bookings, and multiple non-adjacent day bookings. This plugin dynamically calculates booking prices based on the number of slots selected, additional services, number of guests, discounts and special prices and services provider.
Features:
Get the flexibility of setting up bookings with different durations and allow customers to book between these durations
Email notifications & reminders to update the customers regarding the bookings & appointments
Attach additional resources to bookings and assign a price for them
Allows booking cancellations and sets a time limit until when the cancellations can be accepted.
Seamlessly compatible with deposit plugin to accept partial payments & deposits
Sync your booking calendars between multiple products on your website by creating Global Assets
Allows individual or group bookings
14. BirchPress
Price: Personal – $99, Business – $199, Business+ – $29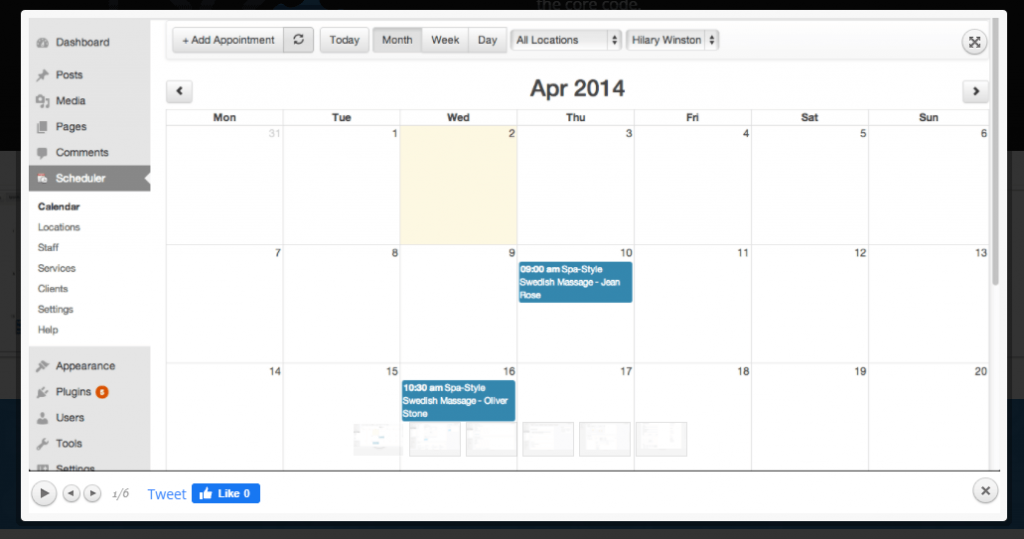 BirchPress is perfect for those who want to capture credit card and PayPal payments hassle-free. This reliable WordPress appointment and booking plugin makes the payment process easy for you. If you do not wish to use the PayPal payment gateway, you are free to capture payments with other gateway options with WooCommerce integration.
If you operate a business in the health and wellness, salon and beauty, automotive, fitness, or healthcare industry, BirchPress is an excellent option. It helps make the scheduling process easy. It keeps all the appointment processing straightforward right from the WordPress dashboard.
Features:
Advanced customization features
Easy appointments customization and sign up from configuration
Sends emails and reminders when someone cancels, changes, or schedules an appointment
Integrates with Google Calendar, Android, iPhone, or Outlook to import and export appointment dates
15. Boulevard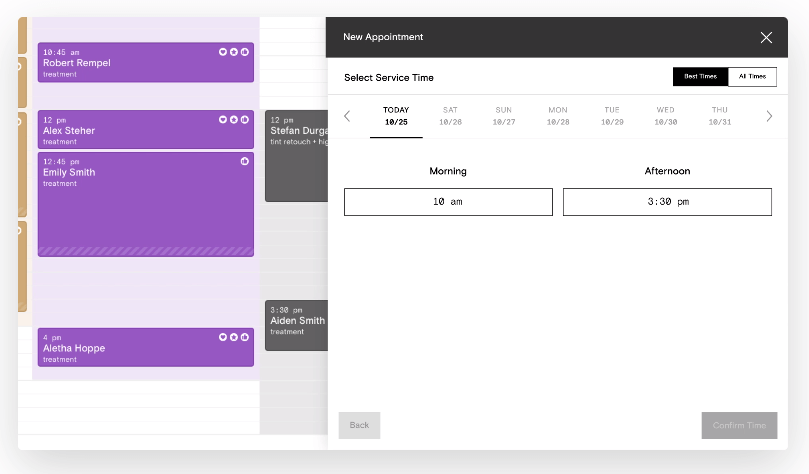 Boulevard is a trusted WordPress booking plugin that simplifies and connects complex workflow in a single dashboard. It accelerates productivity with precision scheduling.
This booking plugin for the WordPress website enables you to customize campaigns and appointments with detailed customer profiles. You can turn data into valuable insights using customizable reports. It stores customer history and offers convenient communication while eliminating manual tasks.
Features:
Connects and simplifies complex workflows in one place
Accelerates productivity with precision scheduling
Activates customer retention through personalized appointments
Customizable reports for easy performance analysis
Conclusion
A WordPress booking plugin is more than just a calendar with a form. It comes with features that can improve your overall business operations. It helps streamline the workflow while increasing customer satisfaction. Choose from the above options and make a big difference.